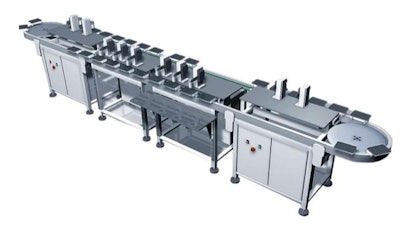 The LS 280 provides enough space for numerous processing steps, but also features a technology related to indexing tables that is said to index pallets considerably faster than conventional transfer systems.
Suitable for a variety of markets including pharmaceutical packaging, medical device, automotive parts and assemblies, electrical connectors, and more, the LS 280 linear system uses a unique and robust design for transporting and interlocking workpiece carriers (pallets) on a cylindrical cam (similar to an indexing table) that combines high positioning precision with stable interlocks, and pallet indexing times of typically 0.5 seconds.
Paired pallet "trains" on four rollers run free of backlash on a hardened and ground V shaped guideway. The pallet engages in a friction grip, and a guide shoe runs on a toothed belt in the conveyor sections and on a rotating disc at the corners.
Essential to the LS 280 linear assembly system's performance are the locking stations, which are actuated by a cam drive. Approaching smoothly on the conveyor section regulated by a frequency inverter, the workpiece carriers wait for the next timed stroke at the infeed on the transport cam, whose modified sinusoidal contour provides a gentle and smooth movement at the pallet.
The workpiece is then transported and interlocked in one movement−with no lengthy stopping, raising, and positioning. After just one rotation of the transport cam, the pallet assumes the next position quickly, securely, and precisely.
An RFID system monitoring data media on each workpiece carrier retains the overview and informs the robot at the end of assembly.
The footprint of the LS 280 provides enough space for the assembly cell control cabinets. The linear system's controller is also installed here in the form of a master PLC. Its slaves then take over the function of actuating the locking stations to which the upstream conveyor sections are also assigned.
Weiss Application Software (WAS), a highly intuitive and uniform graphic user interface, is used to control the linear assembly system and communicate with the higher level plant controller.
The WAS.LS provides preset parameter values that allow the operator to configure and monitor the LS without any programming knowledge.
Companies in this article