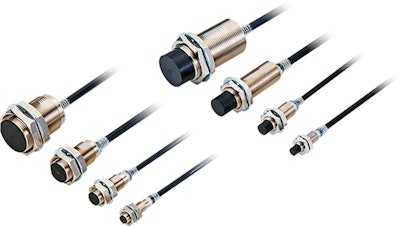 Contact avoidance is essential for maximizing uptime. Seventy percent of unexpected equipment downtime is caused by component failures, of which proximity sensors account for a large proportion. E2E sensors are designed to help manufacturers reduce potential causes of unplanned downtime while benefiting from the sensors' environmental resistance.
The addition of IO-Link functionality enables the sensors to reduce recovery time by indicating the location and cause of failures. They can also detect warning signs of impending failures and notify users via the network. The combination of IoT capabilities, long sensing distance, and oil resistant sheathing reduces the risk of sudden equipment shutdowns by a factor of three.
Omron's new E2E proximity sensors are:
• Stable. The E2E NEXT line's long sensing distance prevents unexpected equipment downtime caused by target contact, making the continued operations more stable.
• Flexible. The extra-long sensing distance makes it possible to solve size-limited applications with smaller form factor sensors.
• IoT-enabled. The DC 3-wire models use IO-Link to help identify the location and cause of failures in real time.
• Oil-resistant. E2E sensors are resistant to cutting oil, which accounts for approximately 30% of unexpected component failures.
• Easy to use. The sensors' user-friendly design makes it easy to confirm detection status and ensures that your facility can recover quickly without requiring advanced support.
Companies in this article