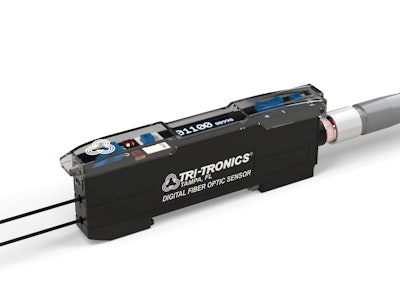 The slim-line housing with protective lid will fit in a variety of small spaces. The DFS11 is adjusted by a single push of a button; there is no guess work on the part of the operator. The sensor default settings will work for most applications. The DFS11 is as simple, or as complicated, as you would like. If your application is a bit more complex, the DFS11 can be adjusted to fit the application, appropriately.
Feature-Rich and Application Specific
The DFS11 sensor has 19 timer modes for any input/output conditioning required; delay, one-shot, latch/reset, motion, inspection, and it even includes a counter! Sensors can be set up for Asynchronous crosstalk reject of two sensors, or Synchronous crosstalk rejection of up to eight sensors. Outputs are selectable; NPN, PNP, or Push-Pull. Additionally, one of the outputs can be configured as an input for latch reset from a switch, button, or second sensor, as well as an input from a product detector for product inspection applications.
Six AUTOSET modes and Six Response Time selections
The DFS11 sensor offers up to six AUTOSET modes, allowing the customer to more effectively set up the sensor for optimal performance in any application. There are Light State, Dark State, Mid-Point, Two-Point, Dynamic, and Window modes available. These modes provide the best methods to ensure your target is sensed appropriately and repeatably the first time, removing the nuisance issues of single mode set up sensors. The Six Response Time selections provide more options of range versus speed choice for your application requirements. Highest range = lowest speed of response. Response times are from 50 microseconds to 16 milliseconds. Ranges vary with response time and are depended on fiber optic selection.
OLED Display
The DFS11 features an OLED display with real words versus acronyms which can be confusing, at times, causing the operator to search for the instruction sheets in order to understand how to operate the sensor properly. The home screen has the option of a numerical display for feedback and threshold settings, as well as a percentage option which allows the operator to clearly understand the difference between contrasting light levels. When the counter function is selected, the display is altered to show the numeric or percentage information, as well as the count and reset information. Screen two is a sensor feature status screen which allows the operator to visually understand how the sensor was set up; set up mode, timer functions, button lockout, are all visible on this screen.
New Plastic Fiber Optic Offering
Along with the new DFS11 sensor, Tri-Tronics is offering a brand-new set of plastic fiber optics for use with the new sensor; line arrays, 1mm and 1/2mm, diffused and thru-beam, liquid level detection, and right-angle options are all available. These new plastic fiber offerings are not only available in a wide range of mechanical options, but they are also very competitively price. Tri-Tronics recognized the need to make available fiber optics that are custom made as well; so, if you don't see it in the catalog, just let us know what features you require, and we'll send you a quote.
Companies in this article