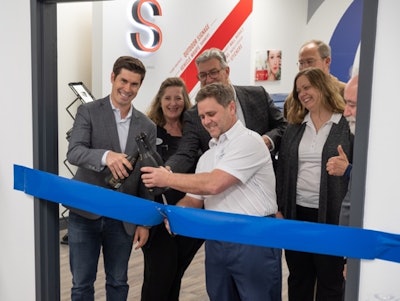 TG Graphics customers will have access to the Epson professional printing portfolio including signage, dye-sublimation and direct-to-garment solutions for a hands-on experience with unique Epson printing solutions and applications.
"At Epson, we strive to provide cutting-edge tools for businesses to fill the world with inspiring content," said John Meyer, manager, Wide Format Channel, Epson America, Inc. "By taking advantage of the industry-leading print technology and product experts available at the Epson Certified Solution Centers, TG Graphics' customers can experience first-hand the full potential of partnering with Epson and the limitless creative possibilities it can unlock."
Located at the TG Graphics office in Toronto, the Epson Certified Solution Center will provide customers with an immersive experience, including:
• Access to the SureColor®S-Series, SureColor F-Series and SureColor P-Series wide-format equipment
• Extensive print samples and applications
• Comprehensive customer training opportunities
"TG Graphics is both very proud and honored to join the Epson team," said Al Proulx, president, TG Graphics Canada. "The name Epson is synonymous with quality and ingenuity. I know that the Epson Solution Center will allow TG Graphics to showcase a wide range of printing applications in a state-of-the-art setting. Our goal is to provide customers with a wonderful learning experience when they visit our facility for personal demos or open house events.
For additional information or to schedule a visit at the new TG Graphics Epson Certified Solution Center, visit www.tggraphics.ca/.
Companies in this article