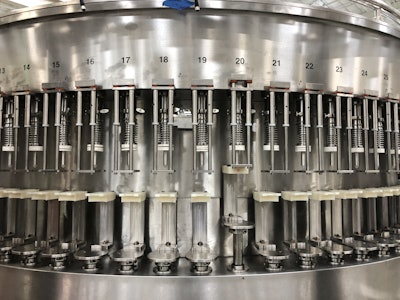 The first step in the Spartan Parts rebuild process is to evaluate a filling line and gauge what the needs are and if they are achievable. The next step in the process would be to perform a machine audit. During the audit, Spartan Parts would evaluate what needs to be upgraded, such as valves, or electronics, to get the machine to achieve the required production rates. After the completion of the audit, Spartan Parts would send a quote listing what would be needed to make the filling line run at the required efficiency.
Spartan Parts is focused on custom parts design and fabrication for commercial filling equipment. It looks for ways to improve the efficiencies of an organization's liquid and food packaging needs. Spartan Parts was not designed to assist existing Fogg machines. Instead, it was developed to support all non-Fogg upgrades and consumable parts in a facility. All Spartan Parts products are backed by the same expert engineering and service customrs have grown to trust.
Spartan Parts has done several rebuilds in the past. For example, they have rebuilt Federal, Horix/Ave, and Filler Specialties machines. Spartan Parts can provide a vast range of rebuilds; anything from mechanical to electrical. Each rebuild is determined on a case-by-case situation. The rebuilds can either be a simple solution or a complex project, depending on the situation. Spartan Parts can help improve sterility and upgrade filling technology. They focus on attention to detail, customer service, aftermarket service, and an overall commitment to excellence!
Spartan Parts will work to have better lead times, exceptional customer service, and more cost-effective pricing than other OEMs. They also have an easy-to-use, website where items can be ordered 24/7. A Spartan Parts representative can be reached at 616/377-7150 or visit their website at www.spartanparts.com.
Companies in this article