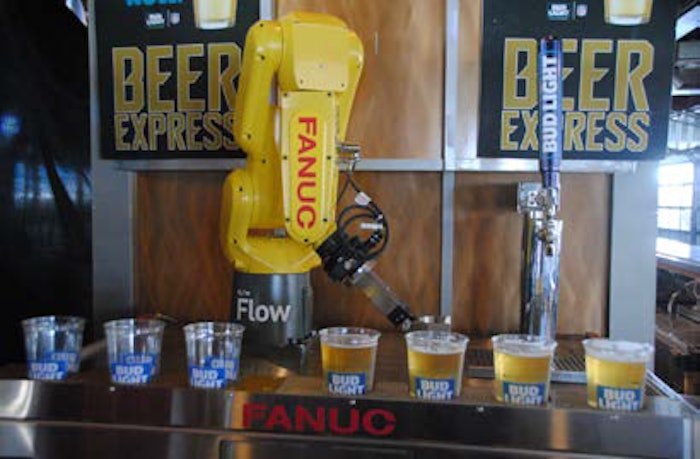 "We are excited for the opportunity to show Fanuc robots to Jaguars fans," said Mike Cicco, president and CEO of Fanuc. "Companies both large and small are implementing robots and automation to help them meet their productivity goals. Ultimately, we help companies solve production challenges and stay competitive. We hope our fun and interactive demonstrations encourage people to see what automation can do for them."
Fans visiting TIAA Bank Field on game day this season can interact with one of five new robots located throughout the stadium. The new team members are:
• Flo – Thirsty fans visiting the Bud Light Party Zone will be served by Flo the robot who will be helping the bartenders pour Bud Light.
• Lenny – In the Lower US Assure Club West, fans can challenge Lenny the robot to a running back challenge by passing a handheld ring along a zigzagged route.
• Cheer – Later this season, when the Jaguars score, look for Cheer the robot on Camp Grunt Style as she hoists a Jaguars flag to celebrate a touchdown.
• Jax and Jill – Always a robot team, Jax and Jill are waiting in the U.S. Assure Club West lobby to welcome fans with a special message.
"We're excited to add another partner who supports our philosophy of bringing first-of-its-kind activations to the stadium experience," said Scott Massey, Jaguars senior vice president of corporate partnerships. "Fanuc is a leader in automation and we're thrilled for Fanuc robots to engage with Jaguars fans on game day, from serving fans Bud Lights, to competing against them in a fun skills challenge, to waving a Jaguars flag celebrating big moments on the field."
Companies in this article