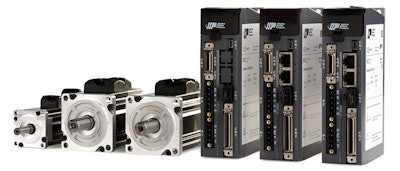 Existing SV200 servo drives are designed for 120- or 220-vAC operation, while the new DC powered drives are designed to operate on 24, 48 or higher DC voltages (up to 60 vDC). This is a welcome addition to the SV200 product line as many machine builders and OEMs prefer DC supply voltages, especially when multiple axes are installed.
DC powered drives consolidate power conversion components into as few power supplies as possible, allowing multiple servo axes to draw power from a single DC power source.
Removing the power conversion components from the drives also reduces their size, meaning DC powered drives take up less space in a control cabinet. This provides the potential for additional cost savings. Furthermore, their compact size makes these drives desirable for use in space-constrained applications such as automated guided vehicles (AGV) and other small machines.
DC powered SV200 servo drives, beginning with "SV2D" in the part number, provide 10 amps continuous and 20 amps peak output current, allowing them to drive servo motors up to 80 mm in frame size and produce 550 W of continuous power.
Companies in this article