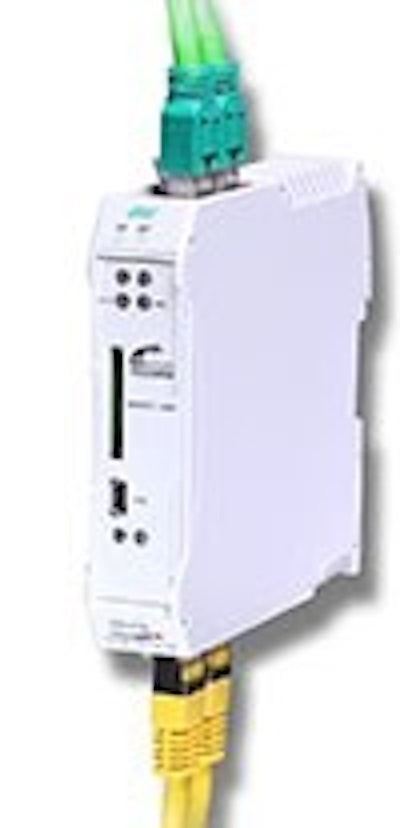 The netTAP 151 is a four-port device that exchanges I/O data between different industrial Ethernet networks by acting as a protocol converter. Supported protocols include EtherCAT, EtherNet/IP, Ethernet POWERLINK, PROFINET and SERCOS.
Because the netTAP 151 is integrated as a simple I/O device into the primary network, it is compatible with any PLC. On the secondary side it works either as an I/O device, or it can control a subordinate network as a bus master. The length of the I/O data can be scaled to any application and the data transmitted can be mapped at the byte level.
Secure network separation is provided by two Ethernet controllers in the netTAP 151, each connected to a Dual Ethernet port with integrated switch. This allows support for star, ring and inline network topologies without the need for additional peripherals. Both controllers handle the protocols independent from each other and exchange only the I/O data across a data buffer. An overall data processing time lower than 10 millisec. is achieved.
The system is built on Hilscher's own netX chip, a single-chip solution with ASIC support for all common protocol-specific industrial network stacks. The netTAP 151 gateway can be ordered preloaded with firmware and license, or ordered unloaded. Unloaded devices minimize inventory costs and increase flexibility, since protocol-specific firmware can be loaded as needed to satisfy any protocol conversion combination. All devices are commissioned and diagnosed over a Universal Serial Bus (USB) to a PC.
Companies in this article