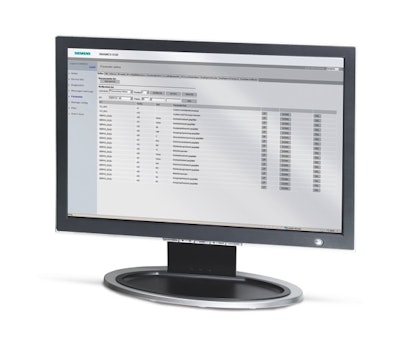 With this drive improvement, a user may access the Sinamics S120 with any PC with a browser capable of internet connectivity through a standard Ethernet interface to execute a variety of functions. If a wireless LAN (WLAN) router is networked, web pages can be viewed using other web-capable devices such as tablets and smart phones.
Among the functions possible with this integrated web server on Sinamics S120 drive systems are the ability to download a plant configuration, commission a drive from anywhere, perform firmware updates, access an immediate status overview on the drive, check and assess all alarm and fault messages. In addition, users can monitor and adapt all process or line parameter settings, archive machine documentation, including all notes taken, create customized server pages, set-up user administration and access level for operator and service personnel, plus perform virtually all drive diagnostics and remote maintenance actions. This combination of service possibilities results in significant reductions in machine or line downtimes due to faster, more efficient diagnostic and maintenance procedures.
This Sinamics S120 drive system enhancement ideally suits applications where no special software or model version dependencies are desired. Series commissioning on a line is possible and the web server is compatible with all system security measures, such as a firewall. An up-to-date internet browser is sufficient for access. This web server capability is integral on Sinamics S120 drive firmware V4.6 or greater.
Companies in this article