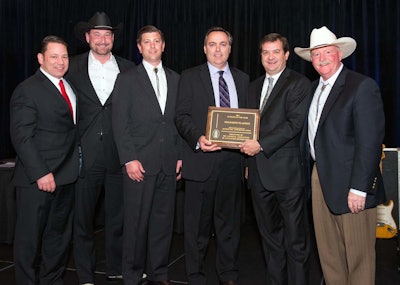 The NACD Supplier of the Year Award is given to the supplier who has most effectively supported distribution within the container industry. It is one of the industry's most coveted recognitions and is NACD's way of honoring a supplier who has made valuable contributions to the distribution channel.
"We are pleased that Mold-Rite heavily relies on the NACD membership channel to supply its' products to the market. Mold-Rite's quality, service and on-time delivery performance has been outstanding and we are pleased to give them the Outstanding Supplier Award," notes Berlin Packaging's Glenn Scott, NACD Acting President.
The Supplier of the Year is a prestigious honor recognizing supply partners who best exemplify support of NACD distributors. Distributor members rate suppliers on the following categories: Leadership, Marketing, Training, Technology, Legislative and Regulatory, Communication, Policies, Product Shipment and Product Support.
"Our goal is not to be among the best, it is to be the best," notes Brian Bauerbach, president and CEO of Mold-Rite Plastics | Stull Technologies | Weatherchem. "Being recognized by the NACD, an organization that represents the highest standards in the packaging industry, brings great pride to our entire team and validates our progress toward our goal of excellence," Bauerbach said.
In November of 2012, Mold-Rite Plastics acquired both Stull Technologies and Weatherchem Corporation. "Combining these three companies gives us even more opportunity to not only provide great services, but also expanded product offerings. With additional operating locations and an expanded focus on innovation, we look forward to delivering even greater value in 2013 and beyond," adds Bauerbach.
The National Association of Container Distributors is a trade association representing distributors of rigid packaging and related components in North America. Each year, the organization gathers at their Annual Convention to recognize and celebrate packaging excellence.
Companies in this article