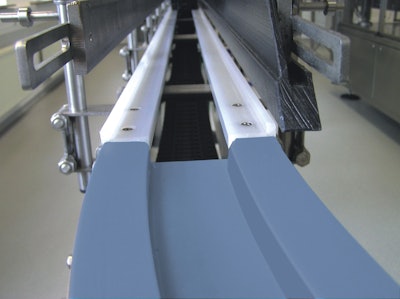 Röchling Engineering Plastics announces LubX® C, a new high performance sliding material. This high performance polymer was designed specifically for the conveyor, material handling, and automation industries. LubX® C blends UHMW-PE with a proprietary blend of dry-running lubricants significantly reducing the coefficient of friction while maintaining the desired characteristics of standard UHMW-PE. Conveying systems equipped with LubX® C require considerably less energy with the ability to run at higher speeds.
Proven LubX® C Benefits:
• Energy and noise reduction
• Significantly lower coefficient of friction
• Faster dry-running speeds
• Eliminates slip-stick effect (back-sliding)
• FDA compliant material
• Specially designed to slide against steel and acetal chains
LubX® C is a self-lubricating material transferring microscopic amounts of material to the mating surface. The transfer process creates a film that provides lubrication effectively reducing the coefficient of friction. The initial transfer of material to the mating surface takes place during the break-in periodwhich can range from a few hours to a few days of continuous operation depending upon the speed and load of the application.