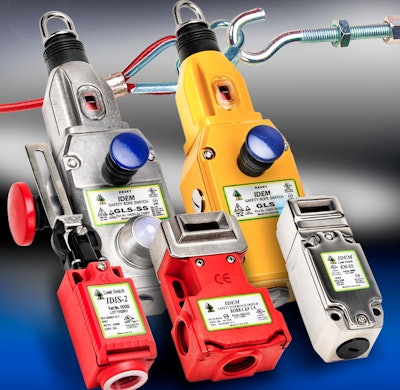 They provide a tamper-resistant actuator mechanism and robust position interlock detection for moving guards.
Available in 22mm, 30mm, and 40mm mounting profiles, models are available in plastic, aluminum, and stainless steel housing options. The switches are designed with multiple actuator entry points and offer adjustable heads with 90- and 180-degree options; switch styles provide single and multiple ½-in. female NPT conduit openings. Interlock switches require actuator keys which are sold separately.
Cable-pull safety switches are also available. Cable-pull, or grab-wire, safety rope switches are designed to be mounted on machines and sections of conveyors that cannot be protected by guards.
Newly added models include a 57mm wide die-cast aluminum body, which supports up to a 50-meter cable; 65mm models are available in aluminum or stainless steel and support cable lengths up to 100m. Models provide ½-in. NPT openings, and are available with or without reset button; units with an e-stop button, as well as red/green LED (24VDC or 110VAC) versions are also available.
Rope kits are available with galvanized or stainless steel cable and contain eyebolts, tensioner, and cable (up to 80m) with pre-mounted eyelet and quick link.
Additional accessories available include steel rope in lengths from 5-126 meters, stainless, or galvanized eyebolts, springs, tensioners, and pulley assemblies, as well as replacement LEDs.
Companies in this article