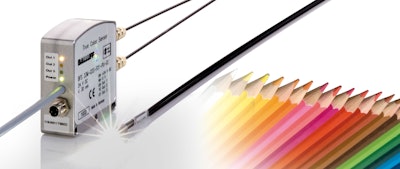 Many manufacturers have the challenge of detecting objects with a varying color pattern, an uneven surface, and in tight quarters. With Balluff's new BFS 33M true color sensor, these challenges are a thing of the past. This sensor detects even the slightest shades, smallest grey level differences or minimal changes to the surface properties.
The BFS 33M true color sensor from Balluff succeeds where existing RGB sensors reach their limits by using the lab color space. The BFS 33M uses fiber optic cable based optics allowing the placement of the detection optics in very tight spaces. The sensor also provides seven channels and three digital outputs for set-point detection and can use the serial interface to not only configure the unit, but also output color data to perform color evaluations. The lab color space values can be transmitted directly via this serial interface.
BFS 33M features:
• Distinguishes between different color shades
• Sensing range up to 400mm
• High degree of flexibility through fiber adaptation
• Easily mounts in tight spaces
• Simple configuration and visualization using software
• Robust metal housing
The BFS 33M is more than a simple color sensor. As a True Color sensor it precisely detects every color in the technical color space, making it ideal for use in a variety of demanding applications including robotics, automated assembly, in the packaging industry or wood processing industry. The rugged aluminum sensor housing is not only attractive and modern, but also meets the special needs of machine and systems builders. The sensor is always used in conjunction with a fiber optic cable, so that applications under especially harsh conditions and tight mounting spaces can be handled.
Together with an optional lens from Balluff, even ranges of up to 400 mm are easily within reach. Metal parts in finishing processes can be monitored, or various material qualities selected. The high switching frequency of 1.5 kHz makes it possible to monitor even fast processes such as in the printing industry. All the sensor settings can be conveniently made and displayed using user-friendly software. This means the sensor will not only be up and running in no time, but the user will also always know its status. The BFS 33 is the ideal tool for automated quality control in running processes.

Companies in this article