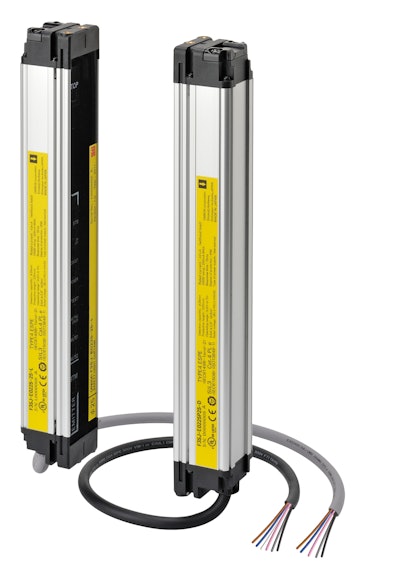 Quick-mount brackets and reduced wiring combine with easy-to-view alignment indicators to enable OEMs and end-users to mount the F3SJ-E in half the time it can take to mount other models. One fixed response time makes it easy to calculate safety distance.
In addition to the newly available easy-type models, F3SJ series safety light curtains are also available in advanced-type models to satisfy varied application needs. Where F3SJ-E models satisfy straightforward hand guarding applications, the company's existing F3SJ-A advanced-type safety light curtains offer series connectivity, finger or hand/limb/body protection configurations and advanced blanking and muting functions that are useful in more complex applications. Both versions conform to the latest Type 4, PLe and SIL3 requirements.
All F3SJ models make selecting and installing a safety light curtain easy: users only need to specify the required configuration type and sensor length. Sensors with protective heights of up to nearly 2.5 meters are available for applications that involve large-sized workpieces. F3SJ series curtains have a lower profile than previous models to allow users to add safety to existing equipment without the safety light curtains getting in the way. F3SJs are available with (0.3 m) M12 connector pigtails or a pre-wired 3 meter cable.
Companies in this article