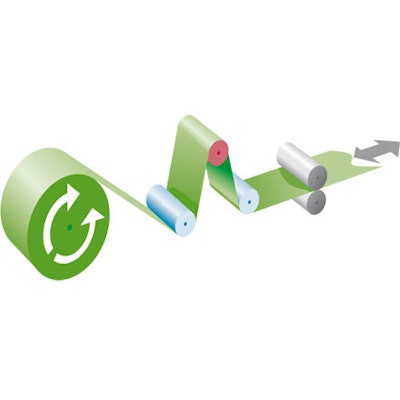 Leveraging servo technology, the new software functionality lets designers reduce the number of wear-prone components, including pneumatics, in production and packaging machines. As a result, dancer-less web handling can reduce machine footprint, OEM engineering times and end user maintenance tasks.
Dancer-less film winding and unwinding uses synchronized servo-driven film reel and nip roll assemblies for web draw and tension control. Typically, the designer replaces a dancer arm assembly with a rigidly mounted guide roll to incorporate a force transducer providing feedback allowing the PacDrive automation controller to perform real-time proportional integral (PI) control for tensioning.
However, for simple applications, motor current feedback may be used instead of a transducer. An advanced algorithm continuously calculates the change in web roll diameter to automatically maintain the proper synchronization between the servos controlling the web wind/unwind reel and nip rolls.
Available as an optional upgrade in the IEC 61131-3 conforming library UnWinder, the Function Block allows the programmer to simply enter parameters for a given application. It is offered as an alternative to the library's existing dancer-based winding Function Block.
For more information click here.
About Schneider Electric ELAU Packaging Solutions
Schneider Electric ELAU Packaging Solutions is the only automaton system in the world purpose-built for packaging machinery. Schneider Electric ELAU Packaging Solutions equips over $1 billion worth of packaging machines annually, with over 45,000 systems already deployed worldwide. 
The market demands packaging operations that are more flexible and efficient to fulfill marketing, supply chain and global business strategies.  Schneider Electric innovations have enabled a revolution in mechanical, software and hardware modularity to deliver these agile packaging systems.

Companies in this article