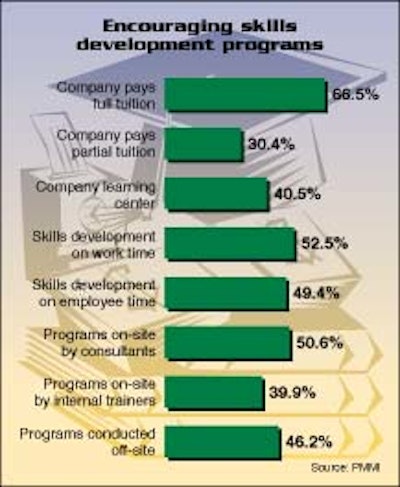 In September, we reported on what some 400 respondents revealed about their companies' productivity and the importance of equipment changeover to productivity (see Packaging World, Sept. '99, p. 78, or packworld.com/go/pmmitrends).
PMMI's Education Summit reinforced the fact that all members of the packaging business need to continue to develop workers' skills and to attract more qualified individuals. Parts of PMMI's PPTI survey studied workforce development and companies' implementation of programs.
As a baseline, the survey first studied the levels of education of individuals with certain job titles. For example, more than one-third of plant managers have achieved graduate degrees, while just 9.2% of department managers have advanced degrees. Among blue-collar plant workers, fewer than 2% of machine operators have undergraduate degrees, and just 1.1% of mechanics have achieved an undergraduate degree or more. At the other end of the scale, 11.1% of operators have not completed high school.
Among those with purchasing titles, 75.3% of all purchasing managers have at least an undergraduate degree; 55% of buyers have achieved that level.
Basic development not uniform
When the survey inquired about companies providing basic development skills (literacy, math, reading, English as a second language), 40.3% of all respondents answered affirmatively. Beverage producers reported the fewest basic skills development programs; only 26.9% said their companies offer these.
Of the 40.3% of respondents whose companies offer basic skills improvement programs, by far the most popular was computer basics, followed by math and literacy. For companies providing these programs, the survey asked how they are offered (see Chart 1). Tuition reimbursement is easily the most popular way, though 40.5% of these companies offer classes in their own learning centers. Some 45.2% of respondents in the food business say their companies offer these programs on-site and conducted by consultants.
It was somewhat surprising to note that the smaller the company, the more likely it was to offer full tuition. About 86% of companies with fewer than 100 employees pay full tuition, compared to just 55% of companies with more than 2ꯠ employees. Company-provided learning centers are certainly the province of large companies. Of companies with more than 2ꯠ employees, 60% have learning centers, compared to just 13.3% of companies with fewer than 100 employees.
Professional development is bigger
When the survey asked about skills enhancement or professional development, the companies were far more involved. Just 14.5% of respondents claimed their companies don't provide development programs; 80.9% said their companies do.
By looking at these responses by industry segment, some anomalies can be seen. At 83.1%, the pharmaceutical/medical companies most often offer skills enhancement opportunities. the food industry, however, scored higher (78.5%) than the electronics participants (75%). The beauty/cosmetics manufacturers said their companies had no development programs more often (21.7%) than any other industry.
The questionnaire then went on to ask about the types of programs offered (see Chart 2). Several subjects scored well, including safety, leadership and computer skills. While a lot of companies offer computer training, relatively few provide training in software for MRP (material replenishment) programs. It would be easy to guess that only large companies are likely to use MRP programs. However, 26.1% of the companies with fewer than 100 employees offer this training, compared to 27.6% of the companies with more than 2ꯠ employees.
To look at it another way, 29% of companies with five or fewer packaging lines offer MRP training. Of those companies operating more than 50 lines, MRP train-ing is offered by just 22.2%. Development programs for sales professionals were especially rare. Only 18.6% of respondents said their companies provide them.
Education incentives
As indicated for basic skills improvement, tuition assistance is also the most popular incentive that companies use to encourage continuing education in employees (see Chart 3). Still, it's interesting that more than one-third of respondents (38.3%) said their companies offer flexible work hours so employees can take courses during their normal workday.
This benefit, however, is offered more frequently by some industries than others. Electronics industry respondents said 61.5% of their firms offer flextime, but only 13% of the respondents in the beauty/cosmetics business said their companies offer it.
The training/education section concluded by asking respondents about the types of training offered by their companies in the last year (see Chart 4). The newer high-technology types of training (CD-ROMs, laser discs and TV or satellite classes) are just beginning to take hold, while seminars and on-job training were each mentioned by a majority of respondents.
Finally, in the last question asked in this section, some 65% of all valid responses indicated that increasing package automation was creating the demand for higher education levels in the plant workers.
For more details about PMMI's Productivity Trends Indicator Survey, copies can be purchased for $150.
Companies in this article