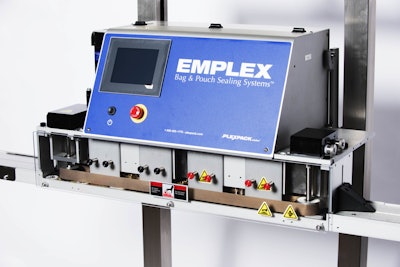 Plexpack Corp. announced multiple software and hardware enhancements to their Emplex MPS Series Bag Sealers.
Emplex MPS sealers provide fast, precise, strong hermetic seals on nearly any heat-sealable soft, high-density, ecological or specialty film. MPS sealers are available in standalone or custom configurations for a range of specialty and high-speed applications.
New software features offer customers increased control of sealing parameters and settings, enhanced operations data and more customizable user preferences. All MPS models include an easy-to-use touchscreen industrial PC that simplifies setup and operation, streamlines maintenance and improves data management. Enhancements include the following:
• Product counter
• Data on average packaging rate
• Meter to track total machine running hours
• French and Spanish language configurations
• New touch and single point calibration capabilities for sealing processes
• Simplified management IP addresses, FTP access and user administration such as passwords and names
• Maintenance warnings for additional replacement parts
• Greater flexibility in recipe settings and data logging of sealing processes
• Software cut‐off for runaway heating zones above 230C
• Improved alarms for component issues or failures
Hardware enhancements include a new standard sensor that improves data and package feedback during sealing. Multiple components, connectors and switches have been enhanced for easier operation and maintenance.
These enhancements make Emplex MPS sealers the bag and pouch packing solutions for seal integrity, consistency and quality. The company works closely with customers to provide solutions that fit their unique needs, whether they are hand packing or operating automated packaging lines.
Frequent add-ons and options for MPS sealers include robotic loading, validatable sealing, vacuum and gas flush capabilities and print-reject systems. MPS systems work for products of nearly any weight, size, and type, including stand-up, gusseted, pillow, wicketed and zippered bags.
Companies in this article