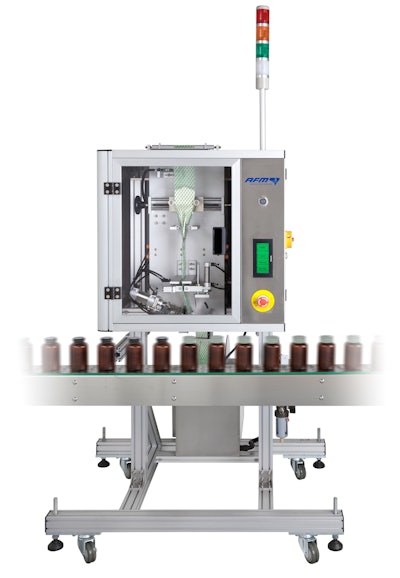 American Film and Machinery, formerly NAFM, introduces the CH-100 Tamper Band applicator.Designed for low-to-moderate production rates, CH-100 is a solution for food and beverage, pharmaceutical, nutraceutical, health-and-beauty, consumer goods, chemical, and other manufactured goods industries.
The CH-100 is a fast and efficient butterfly mandrel-style tamper band applicator engineered to meet the demand of users workflow.
Designed for 24-hr operation, CH-100's simple and low maintenance design allows for quick film change and maximum uptime. CH-100's compact housing is constructed from 304-grade stainless steel and anodized aluminum to provide strength and reduce vibration while offering quiet operation. Product runs are programmed with the user-friendly touchscreen control interface, making setup and operation fast and easy.
CH-100 Tamper Band Applicators are designed with stepper motor-driven, single film unwind with tension control, cutter assembly and pneumatic cylinder to provide accurate and consistent tamper band application.
CH-100 handles round bottles made of plastic, glass, or metal at speeds up to 120 cpm. The single blade guillotine cutting mechanism provides extremely smooth, even cutting of PVC/PETG film 50 to 70 microns in thickness.
AFM machines feature a single unwind system with tension control for proper film alignment. Photoeye sensor system allows for register cutting, guaranteeing accurate cutting of the film for consistent band application on the container.
The CH-100 also comes with quick-change system for switching mandrels with a turn of a knob. Along with the mandrel, the cutter assembly has only two levers to turn to minimize downtime.
The CH-100 is available now through AFM's worldwide network of authorized distributors.Sales inquiries should be directed to Joshua Nelson, AFM, 1521A Pomona Road, Corona, CA.Phone: 800-877-565. jnelson@squidink.com
AFM operates as a subsidiary of Engage Technologies, parent company of Squid Ink, Eastey Enterprises, and Cogent Technologies.
Companies in this article
Videos from AFM - American Film & Machinery