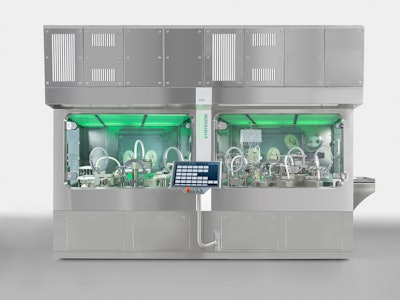 At this year's ACHEMA in Frankfurt, Syntegon will present new solutions for the filling of liquid pharmaceuticals, promoting the Versynta FFP (flexible filling platform). With the new modular FFP, the company offers an individually configurable machine for aseptic small batch filling, including high potent and BSL (bio-safety level) pharmaceuticals. The Versynta FFP also features an integrated system for automated HEPA filter scans for RABS and isolators. Manufacturers cannot only achieve significantly faster, reproducible results in real time, but also increase the reliability of their filter integrity tests.
Syntegon's Versynta FFP small batch machine provides additional production flexibility. The Versynta FFP includes pre-developed and tested modules. The filling solution can be individually configured and output rates of up to 3,600 vials, syringes, or cartridges per hr with the capability of achieving simultaneous 100% in-process control. The Versynta FFP also includes several pharmaceutical handling units, each consisting of a four-axis robot that transfers containers from one station to the next without glass-to-glass contact, reducing product loss. Thanks to the small number of format parts, the Versynta FPP also supports quick and easy changeovers.
The Versynta microBatch completes the Versynta portfolio with a versatile solution for micro batch filling in isolators. At the booth, Syntegon will digitally showcase the highly flexible and fully automated production cell, which enables complete batch-to-batch changeovers in less than two hr. The gloveless isolator of the Versynta microBatch significantly reduces the risk of contamination and features integrated air management.
Syntegon's isolator expertise is at the heart of another innovation that the company will present for the first time at the ACHEMA: an iRSF system for automated HEPA filter integrity testing in isolators on a Versynta FFP. Syntegon jointly developed the testing solution with InfraSolution, a specialist for technical plant equipment, software applications, and robotics. It not only saves time compared to common manual methods, it also ensures safer processes and optimal data integrity. During filter testing, a special robotic arm scans the entire geometry of the isolator surface. Thanks to integrated software, the device can detect any leaks via heat mapping in real time, visualize, and document the measured values.
Companies in this article