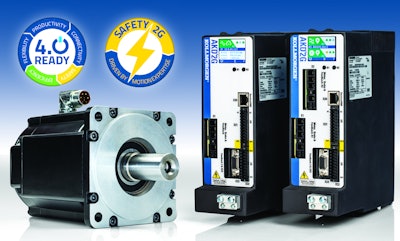 An alphabet soup of servos, Kollmorgen's second-generation AKD2G servo drive and AKM2G servomotor were on display at the motion control systems provider's booth at PACK EXPO Las Vegas. According to Kollmorgen, the drive and motor system delivers increased performance in a smaller space, with the motor providing 30% higher continuous torque compared with motors of an equivalent size. Meanwhile, the compact, dual-axis servo drive is said to offer twice the power density and features a digital current loop that is 50-times faster than the industry standard.
Added Kollmorgen, new connectivity also allows for easy remote monitoring of globally-distributed systems, including the ability to monitor machine performance for the purposes of predictive maintenance to maximize uptime.
The 2G servomotor comes in 23 frame-stack length combinations with options for brakes and various thermal sensors, as well as a range of shaft, flange, feedback, and connector options. The 2G servo drive is optimized for single-cable technology and integrates safety features for a streamlined motion solution for high-throughput packaging and labeling applications.
Companies in this article