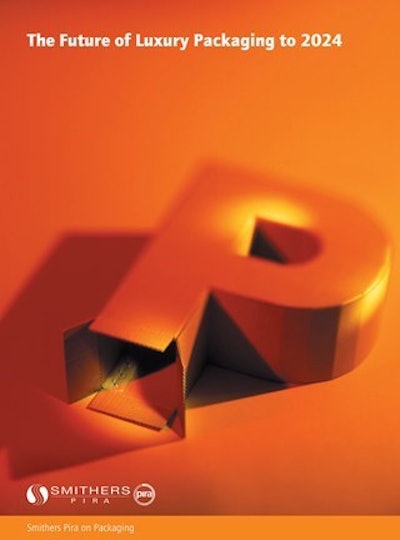 This content was written and submitted by the supplier. It has only been modified to comply with this publication's space and style.
Environmental concerns and ecommerce trends are altering luxury packaging needs. These trends and market growth rates are explored in Smithers Pira's new market report, The Future of Luxury Packaging to 2024.
According to Smithers report data, the global market for luxury packaging is valued at $15.38 billion in 2019, forecast at a rate of 3.0% year-on-yearto 2024, yielding a market worth $17.83 billion. Western Europe is the largest market in 2019, but by 2024 it is expected to lag well below many less developed countries, slipping to second place behind Asia Pacific.
The shift to online shopping means packaging companies are required to develop solutions tailored to the e-commerce industry – such as the growing need for returnable packaging options. Smithers' data shows online sales of luxury goods were worth an estimated $31 billion in 2018, up by 13% from the previous year and equivalent to 9% of the overall luxury goods market, projected to increase to almost 12% by the middle of the next decade.
Legislation and consumer concern aimed at curbing packaging waste and encouraging recycling is appearing across much of the world, addressed by the luxury packaging industry by including recycled material and reducing the amount of materials used (i.e. lightweighting). Despite sustainability efforts, plastic growth was highest in 2018 with an increase of 5.7% in value terms, forecast to increase by an annual average of 5.5% during the 2019–24 period. Paperboard will dominate in 2019 with value sales worth well over $6 billion, followed by glass and plastic.
For more information about the Smithers Pira market report The Future of Luxury Packaging to 2024, visit https://www.smitherspira.com/industry-market-reports/packaging/future-of-luxury-packaging-to-2024.
To see more Packaging World coverage of the e-commerce industry, click here.
Companies in this article