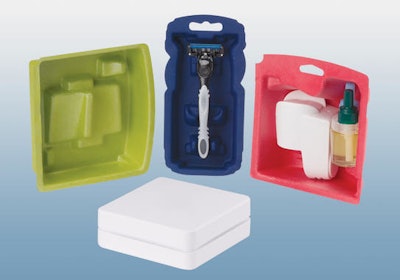 Be Green Packaging showcased its colorful, soft-to-the-touch molded fiber packaging at PACK EXPO International 2018, contending that these sustainable packages are disrupting the way CPG products differentiate themselves in the marketplace.
Be Green Packaging's molded fiber packaging uses a proprietary blend of renewable, natural fibers to produce color-rich, custom packaging such as trays and inserts that can be molded into a variety of shapes like cylinders, curves and compartments. They are suitable for various applications, including consumer electronics, household chemicals, personal care, cosmetics, specialty foods, toys and games, hardware, health and fitness, wine and spirits, and jewelry.
"Consumer pressure for marketers to reduce the amount of plastic that enters the waste stream has never been greater. However, CPG companies still have to be able to protect and differentiate their products in a competitive retail environment," says David Gray, director of business development for Be Green Packaging. "Be Green's molded fiber packaging meets those objectives."
The company's molded fiber trays, with their "soft-to-the-touch" surface, can be made in any Pantone color to support branding goals and creative visual impact. Unlike thermoformed plastic containers and other molded fiber trays, Be Green's investment in proprietary engineering has resulted in a "zero draft angle" solution which means straight, no-slant sidewalls. The molded pulp surface will also accept silk screen and laser inkjet printing or a label.
"Consumers are drawn to beautiful packaging, but they also want to know they are buying a product that has been packaged in materials that are kind to the environment," Gray says. "Our molded fiber packaging is compostable, recyclable and biodegradable."
Companies in this article