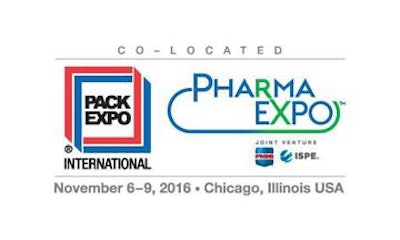 Rockwell Automation subject-matter authorities will address key industry topics in a three-part series of free educational programs at PACK EXPO International 2016 in Chicago. Held at the Innovation Stage (N-4570), the interactive presentations will provide valuable information on track and trace, remote monitoring and smart machines. The schedule is as follows:

•Nov. 6, 3–3:30 p.m.: Deliver Valuable Genealogy/Track & Trace Information for Improved Production Control, Accountability, Safety and Economic Value
•Nov. 7, 1–1:30 p.m.: Remote Monitoring
•Nov. 8, 10–10:30 a.m.: Building a Smarter Machine

"The emergence of smart manufacturing is driving new priorities for end users, offering greater access to data and increased connectivity throughout all levels of the enterprise," stated Steve Mulder, OEM regional segment leader – packaging, Rockwell Automation. "Companies need OEM collaborators capable of delivering smart machines that accelerate demand-driven manufacturing."

Rockwell Automation is also a title sponsor of the PACK Gives BACK™ event being hosted by PMMI on Nov. 7 at McCormick Place. The event will take place in the Grand Ballroom, South Hall, featuring Penn & Teller with a reception at 4:30 p.m. and the performance at 5:30 p.m. A portion of the proceeds from this event will support No Greater Sacrifice (NGS), an organization that provides scholarships and resources to military families.

Attendees can also visit the booths of over 20 OEM members of the Rockwell Automation PartnerNetwork program. The OEMs will showcase machines and equipment that demonstrate smart manufacturing solutions to help increase operational efficiencies, deliver real-time diagnostics and analytics, support simplified machine integration, and facilitate compliance with safety and security programs.

To learn more about Rockwell Automation participation at PACK EXPO International,click here.