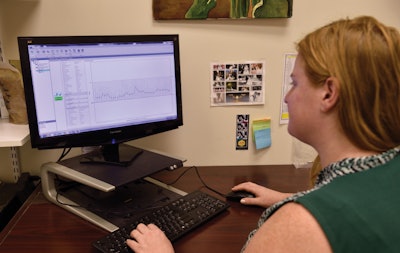 From its Mooresville, IN, contract manufacturing and packaging plant, PacMoore Products serves food and pharmaceutical customers with dry blending, spray drying, extruding, packaging, and processing services. To ensure a reliable, safe supply of packaged goods to its customers, the company has installed new end-of-line checkweighers, along with new software, on three lines:
• A packaging line for filling fine powders into cartons from 14 oz. to 4 lb. in size
• A vertical form-fill-seal (vf/f/s) line that fills cocoa, rice, fruits and vegetables and other products into bags from 50 g to 5 lb
• A horizontal-form-fill-seal (hf/f/s) line third line packaging stand-up pouches from 50 g to 1.3 lb. in size
To improve productivity and maximize yields, PacMoore chose XE3 checkweighers from Mettler-Toledo Hi-Speed, aided by the company's ProdX Inspection Management software (which also connects to Safeline metal detectors and x-ray inspection systems). The checkweighers use electromagnetic force restoration (EMFR) weigh cells to achieve an impressive accuracy of +/- 0.5 to 1 g. At PacMoore, some products, such cake mixes, have very specific target weights, so the checkweigher is programmed to reject both under-weight and over-weight packages. For other products, such as carrots and raisins, the checkweigher is programmed to reject only under-weight packages. From the user perspective, however, the software, which saves and manages individual products, has been a major selling point.
From a central PC station, PacMoore monitors all three lines using ProdX to ensure compliance and reduce product giveaway. Software monitoring and trending delivers early detection and analysis of potential problems. "If we see fill weights outside the tolerant zone or an increase in standard deviation across a couple of hours, it could be a problem with the filler or changing product density, so we investigate," says Nicole Marie Lowe, PacMoore plant engineer (shown here).
The software also aids in real-time process control, as is the case on the vf/f/fs bagging line, where the checkweigher sends feedback to the filler to make automatic adjustments as needed, reducing labor costs and the risk of human error. Lowe credits the software with better management of maximum allowable variance (MAV), which is critical to meeting customer-specific requirements as well as FDA requirements for package weights to meet or exceed label declarations. "Because ProdX allows us to run closer to each customer's MAV target, it's helped us reduce product loss by two to 10 percent or more, depending on the product," says Lowe."With it, we're able to get more packaged product out the door, which is direct benefit to our customers."
The software further enhances PacMoore's management effectiveness. The company uses Performance Verification Reports to track standard deviation, mean, average, median value and other data to improve line performance. Remote connectivity lets Lowe set-up the checkweighers for new products at her desk, where she can work with customer order packets and avoid the bustle of the plant floor. And both reporting and remote connections ease production report sharing to customers as well. In fact, Lowe says the company uses this reporting efficiency "as part of our sales package. It allows us to prove to our customers that we are putting exactly what we say we are putting in every package," Lowe says.