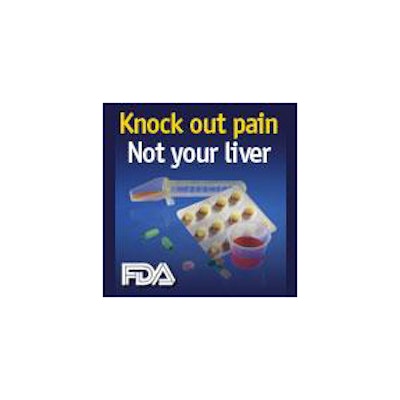 During cold and flu season, people turn to medicines that can help relieve their symptoms, but many of these contain acetaminophen, which can cause liver damage if too much is taken. Acetaminophen is a fever reducer and pain reliever, and the U.S. Food and Drug Administration has developed resources to help consumers recognize this commonly used ingredient in medicines and how to use it safely. The agency offers a fact sheet, "Careful: Acetaminophen in pain relief medicines can cause liver damage" to avoid taking too much acetaminophen and learn about the dangers of taking more than directed.
Acetaminophen is the active ingredient found in more than 600 prescription and over-the-counter (OTC) medications, including cough suppressants and cold remedies. When taken correctly, acetaminophen can be safe and effective. However, taking more than one medication containing acetaminophen per day may lead to liver damage.
Consumers also can read the Drug Facts labels on OTC medications to see if they contain acetaminophen. On the labels of prescription medicines, acetaminophen may be spelled out, or it may be abbreviated such as APAP, Acet, Acetaminoph, Acetaminop, Acetamin, or Acetam. FDA's Web site has brochures, tutorials and articles to help identify acetaminophen on labels and how to take the drug safely. For more information about acetaminophen, visit www.fda.gov/acetaminophen.