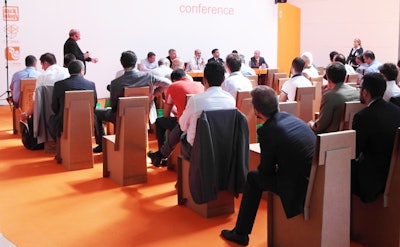 Visitors to Packology were given a guided tour by OMAC chair Dr. Bryan Griffen and OMAC PackSafety chair Fabrice Bertin, both of Nestlé, who explained how four automation suppliers, including B&R Industrial Automation, implemented PackML to coordinate four machine modules over Ethernet. The demo has a storage and feeding module, a vision module, a presentation module and a robotic orienting module, with the robot controlled by B&R.
The booth attracted a number of machine builders and packagers interested in the organization and the full range of international standards being aggregated by the PackSpec committee into a universal User Requirements Specification to be completed this year.
Dr. Griffen additionally gave presentations on machine safety and OMAC initiatives in workshops that included a PackML machine builder's experience with Pro Mach's Mark Ruberg, an OMAC board member; an overview of the OMAC Packaging Workgroup by OPW chair Uwe Keiter of B&R, and a supplier panel moderated by B&R's John Kowal, board member of OMAC and PMMI, the North American packaging machinery association.
During the conference Dr. Griffen explained how Nestlé realized a few years ago that instead of forcing packaging machinery builders to use a particular control platform, it was time to allow the builder to choose the platform that would enable them to be the best in class
So they needed to make the different PLCs communicate with each other and to share information with management systems using PackML.
For membership information and to learn more about OMAC activities, visit www.omac.org.
Companies in this article