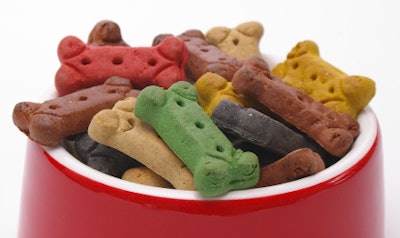 The pet-food market is currently being driven by many of the same factors as the human food market, including intense competition, growth in specialty niche areas such as premium and functional foods, and the demands of the Food Safety Modernization Act (FSMA). That's according to a new report, "Pet Food Market Assessment 2013," released by PMMI.
"The pet-food market has defied most of the predictions of investors and analysts. Despite economic downturns, consumers are still showing a willingness to invest in their family pets. They're continuing to try new products and pay premium prices, and even organic products and functional foods are seeing growth," says Jorge Izquierdo, vice president, market development, PMMI.
In the U.S., growth in premium pet products has much to do with consumers' attitudes toward their companion animals. "Whether we're talking about cats, dogs, or turtles, U.S. consumers are increasingly anthropomorphizing their pets—seeing and treating them as cherished family members rather than 'just' animals," Izquierdo notes. "That makes a huge difference in what the average pet owner considers 'good enough' for the family pet."
Just five manufacturers produce more than 70% of the pet-food products sold in the U.S., and more than 85% of the pet food sold in the U.S. is manufactured in the States, too, largely because of perceptions of quality, transportation costs, and the highly saturated marketplace, the study suggests.
The report also points out that the U.S. alone accounts for 38% of the global market for pet food—$19.85 billion of the $56 billion global market in 2011, up to $20.54 billion (projected) in 2012, and as much as $26.6 billion by 2015.
It's a global trend
U.S. pet owners aren't the only ones spending money on their furry, feathered, or finned family members, either. That 3.5% increase that will result when all data for 2012 is calculated is overshadowed by anticipated double-digit growth in Latin America and Asia.
"Brazil stands out as the fastest-growing market for pet food. India and China are growing at double digits, too, but by 2016, we expect to see Brazil as the world's second-largest pet food market," Izquierdo says.
The growth, the study notes, is primarily in organic, natural, and premium pet foods, which have all been grown at about 20% a year for the past two years. Global demand for this niche is projected to reach as much as 32% in 2013.
"In contrast, some categories have barely any growth. Outside the premium product space, for example, we expect less than one percent growth in wet dog food sales this year," Izquierdo adds.