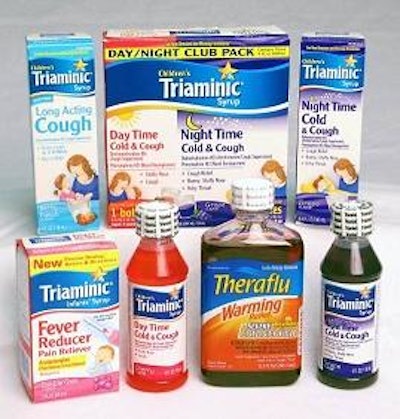 Novartis Consumer Health, Inc. (NCH) voluntarily recalled certain lots of Triaminic® Syrups and Theraflu Warming Relief® Syrups that were manufactured in the U.S. prior to December 31, 2011. Novartis Consumer Health issued a voluntary recall to consumers, retail customers, and wholesalers in the U.S. because the child-resistant feature of the bottle cap may not function properly, enabling the cap to be removed with the tamper-evident seal still in place. (Photo shown here is downloaded from the Consumer Product Safety Commission.)
A Jan. 31 CNN Health announcement made the following points concerning the recall:
• "Novartis said the last batch of products in question were distributed more than a year ago, so the company believes little remains for sale or in use."
• "Under federal law, products containing these drugs must be sealed with child-resistant packaging due to the risk of poisoning."
• "According to the consumer agency's [Consumer Product Safety Commission] website, 24 different types of products are included in the recall."
• So far, Novartis has had 12 reports of children unscrewing the locked caps, including four who ingested the product. One child received medical attention."
• "The Food and Drug Administration is working with the consumer safety commission on the investigation."
The Novartis Web site provides a "full listing of recalled products including Lot and NDC numbers" for consumers. The site says, "The lot number is located on the bottom panel of the box and on the left side of the label on the bottle. …The NDC number is located on the upper right corner of the front panel of the box for Triaminic, and the upper left corner of the front of the bottle for Theraflu."
Novartis encouraged consumers with additional questions to contact the Novartis Consumer Relationship Center at 1-866-553-6742 (available Monday-Saturday 8 a.m. to midnight Eastern Time). The Novartis Web site also offers detailed information on how to return the recalled product and obtain a refund.
Companies in this article