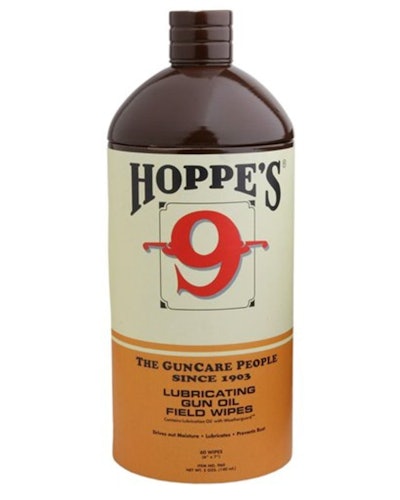 A two-piece commemorative tin holding Hoppe's brand Lubricating Gun Oil Field Wipes is the winner of the Bernard M. Seid Best of Show award in the 2012 Annual NACD Package Awards Competition, hosted by the National Assn. of Container Distributors (NACD). The reusable tin, supplied by TricorBraun, sports a faux cap and cleverly comes apart above the "label" for access to a plastic container of lubricated wipes within.
The tin was one of many packages, in seven categories, evaluated by judges last February in Tampa, FL. Judging was based on packaging innovation, sustainability, graphics, decoration, shape, closure, texture, ease-of-use, consumer appeal, and technical merit.
Winners were honored during the NACD 2012 Annual Convention in Key Largo, FL, in April. At the event, Gold, Silver, and Bronze Awards were presented to the top three containers in each category. The Best of Show award, named as memorial to Bernard M. Seid, a valuable contributor to NACD and innovator in the industry, was also presented, along with the NACD People's Choice Award.
Winners in the Beverage category included Karma Wellness Water, from Zuckerman Honickman, which took home Bronze; Sake G, from TricorBraun, awarded Silver; and Roxor Gin, also from TricorBraun, which won Gold. For Cosmetic & Personal Care, Farouk's White Truffle Foundation, from SeaCliff Beauty Packaging, was awarded Bronze; Cypher Face Instant Bronze, from TricorBraun, took Silver; and the Disney Baby Winnie-The-Pooh Baby Care Line, from TricorBraun, was awarded Gold. In the Drug & Pharmaceutical category, Bronze was given to Glycolax from Berlin Packaging; Silver to Liquid Vitamins from All American Containers, Inc.; and Gold to Transformers Gummi Vitamins from TricorBraun. In Food, IHOP Syrup from Berlin was granted Bronze; Roasted Raspberry Chipotle Sauce from Zuckerman Honickman, Silver; and Krusteaz One Step Muffin Mix (Assorted Flavors), from Empire/EMCO, Gold.
In the General Industrial category, Lexel (in U.S., Canadian, and Japanese labels), from TricorBraun, was awarded Bronze; Bear Coat Luster, Bear Coat Premiere, and Bear Coat Ultimate, from SouthPak-NorthPak, took Silver; and Sublimation Ink, also from SouthPak-NorthPak, got Gold. In Household Chemical & Auto, Bronze was given to Sport – Wash from Empire/EMCO; Silver to Good Stuff 18-oz RV Fuel Treatments from All American; and Gold to 3M Car Care Automotive Products Line, from TricorBraun. In Novelty, Bath & Body Works' Anti-Bacterial Soap-Chick Seasonal Packaging, from TricorBraun, was Bronze; Mission Power Grip, from Berlin, was Silver; and Court Grip, from Berlin, was Gold.