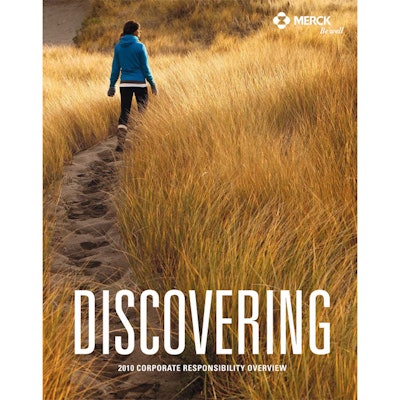 Merck, also known as MSD beyond the U.S. and Canada, is a global healthcare company focusing on wellness through its prescription medicines, vaccines, biologic therapies, and consumer care and animal health products, operating in more than 140 countries.
With those responsibilities, Merck launched its 2010 global corporate responsibility report--the first report developed in accordance with the Global Reporting Initiative since Merck merged with Schering-Plough in 2009. Themed "Discovering" to highlight the company's commitment to discovering innovative solutions to some of the world's greatest health challenges, the report examines four critical business areas: Access to Health, Environmental Sustainability, Employees, and Ethics and Transparency.
"Our world is changing rapidly. We recognize that expectations for companies like Merck are now higher than ever before," said Kenneth C. Frazier, president and CEO, Merck. "We, of course, need to continue to be both innovative and profitable, but need to do so in a way that protects the environment, supports communities, respects employees, and demonstrates ethical behavior."
It includes metrics related to each area of focus and announces a new set of key performance indicators (KPIs) that will be used in the coming years to measure progress in each area of focus.
Merck continues to use several external reporting guidelines including the Global Reporting Initiative (GRI 3.1) Guidelines, The Millennium Development Goals, the Access to Medicines Index, and the United Nations Global Compact Communication on Progress.
Diving down into the Environmental Sustainability area, Merck says, "The report highlights the company's respect for the earth's resources with a commitment to discover environmentally sustainable ways to meet the world's health needs. It includes Merck's recently established environmental goals and a road map that will guide the company's progress, from reducing its environmental footprint in the short term, to transforming its entire value chain over the longer term."
Companies in this article