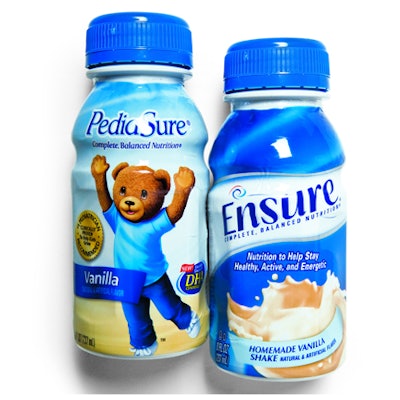 Abbott continues to make progress toward meeting its goal of a 5% reduction in the amount of packaging used in its key products by 2013, part of a multi-faceted effort to minimize its impact on the environment. To achieve this goal, the company has launched, or is in the process of launching, more than 40 sustainable packaging initiatives across its nutritional, pharmaceutical, and medical products businesses. The initiatives are driven by new standards and guidelines developed by Abbott that encourage increased use of lighter and sustainable materials in package design.
The Abbott, IL-based global health care company is devoted to the discovery, development, manufacture, and marketing of pharmaceuticals and medical products, including nutritionals, devices, and diagnostics. The company markets its products in more than 130 countries.
"Abbott's sustainable packaging initiatives will reduce our environmental footprint through less waste in landfills, more responsible forest management and fewer emissions. At the same time, it lowers cost, and, in some cases, reduces shelf space for our customers," says John Landgraf, senior vice president, pharmaceuticals, manufacturing and supply, Abbott. "Throughout the world, consumers increasingly expect the companies they do business with to be environmentally responsible citizens and Abbott is rising to that challenge."
Abbott partners with various industry and independent groups in the area of sustainable packaging, such as the Sustainable Packaging Coalition (www.sustainablepackaging.org). Abbott also is working with suppliers who have achieved or are pursuing certification, with respected sustainability organizations, such as the Program for the Endorsement of Forest Certification, the Forest Stewardship Council and the Sustainable Forestry Initiative. Abbott recently announced sponsorship of the newly created Michigan State University's Center for Packaging Innovation and Sustainability, which provides a forum to bridge academic research with Abbott's real-world application expertise.
"Abbott has been actively working to benchmark and measure progress in making its packaging more sustainable," says Anne Johnson, director, Sustainable Packaging Coalition, a project of GreenBlue (www.greenblue.org), a nonprofit sustainability institute that works with the private sector to enable the positive redesign of industrial systems. "Given the material challenges of packaging for health care products, it is impressive to see that they have put systems in place in recent years that have resulted in tangible results. We look forward to continuing our collaboration with them and other industry leaders to develop packaging systems that promote economic and environmental health."
In addition, Abbott works with major retail customers, sharing information on packaging reductions the company has achieved in its consumer products. The company also screens its suppliers, holding them to stringent packaging requirements. In 2008, the company created an internal packaging design guideline document to facilitate improved sustainable packaging decisions throughout the design and development phase of packaging.
"Our sustainable packaging commitment is the latest example of Abbott's legacy of doing its part to safeguard the environment," explains Donald Patton, Jr., senior vice president, U.S. Nutrition, Abbott. "Across the company, Abbott is transitioning to packaging that performs its essential functions while using less material and more environmentally friendly components."
Abbott is working toward delivery on this commitment through a variety of strategies, including embracing the four R's (reduce, recycle, renew, and re-use). Since 2007, Abbott has eliminated an estimated 2.88 million lb of packaging on an annualized basis through reduction initiatives on a few select products, the equivalent of preventing 15,000 pounds of polystyrene foam from going into landfills. In addition, Abbott reduced the amount of plastic used in infant formula containers by 15 percent in 2008. Some of Abbott's major sustainable packaging initiatives include:
* Abbott Nutrition reduced the amount of plastic in its eight ounce reclosable bottles by 8.3%. Through better design, the company cut polypropylene plastic usage by 2.7 million lb annually. The reduced-weight bottles also will help save 436,000 gallons of gasoline used for transportation per year.

* Abbott recently implemented a pilot program for shipments of some physician samples that require refrigeration. During the pilot, Abbott is exploring ways to make this environmentally friendly alternative comparable in cost to current packaging. The reusable box, which replaces a larger, single-use box, is smaller, made of reusable, recyclable and 100% organic-based materials, and can be used more than 100 times.
These are just a couple of examples of the more than 40 sustainable packaging projects already introduced or in the process of being launched across Abbott's health care businesses. The company's sustainable packaging team continues to find new ways to reduce Abbott's environmental footprint through innovative design and the application of the latest packaging technology.
Safeguarding the environment is an important part of Abbott's mission to improve people's health and the company's efforts to be a leader in global citizenship. In addition to expanded use of sustainable packaging, Abbott has identified reductions in greenhouse gas emissions, water conservation, and increased use of cleaner and renewable energy as environmental priorities. The company has set measurable goals in each of these areas to track its progress. All of Abbott's various health care businesses are examining their manufacturing processes and needs, as well as their product packaging, to develop environmentally friendly and sustainable approaches to help the company meet or exceed these goals.
Abbott was recently named to the Dow Jones Sustainability World Index and Sustainability North America Index for the fifth consecutive year, and was one of just two U.S.-based pharmaceutical companies listed on both indices. The Dow Jones Sustainability World Index ranks Abbott among the top 300 of the world's largest 2,500 companies, based on an assessment of economic, social and environmental performance.
Companies in this article