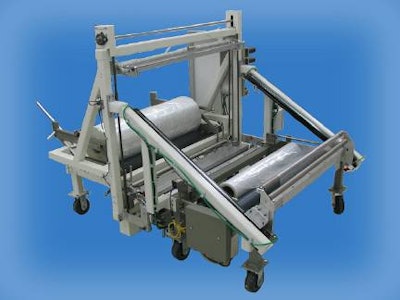 Rennco's new Centerfold Film Splicer allows users to quickly change and setup film rolls to prevent lengthy interruptions to production. With the Centerfold Film Splicer option on Rennco equipment, changeover to new film rolls is reduced to only a couple minutes, dramatically improving overall production.
Rennco offers its new Centerfold Film Splicer as a feature on all new systems and as an add-on to existing equipment customers who have already purchased a Rennco system.
"Our new Centerfold Film Splicer offers customers an economical option for increasing production on their vertical bagging and sealing lines," said Robin Thurgood, Rennco General Manager. "This is particularly true for many of food service disposables customers running our systems around the clock."
Rennco's Centerfold Film Splicer will be on display at Pack Expo in Chicago at Booth N4129. For more information about the Centerfold Film Splicer or other Rennco products, contact Rennco at 800-409-5225 or visit their website at
www.rennco.com
.
Rennco, a division of Pro Mach, is a leading manufacturer of vertical bagging and L-Bar sealing systems. Through three business units and related divisions, Pro Mach provides equipment, training, installation, and parts in primary packaging, end-of-line packaging, and identification and tracking.
Companies in this article