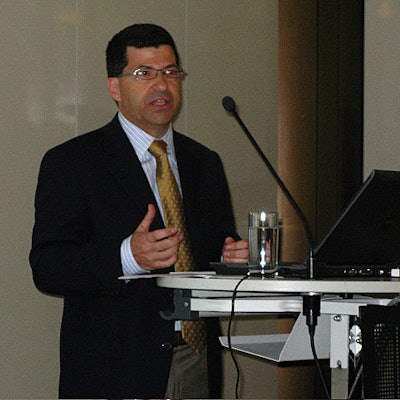 These were among the takeaways from presentations by the two speakers featured at the U.S. Press Luncheon held May 13 at interpack 2011. The speakers were Rich Hollander, vice president of Packaging Services in Global Manufacturing at Pfizer Inc., and Eva Peters from Campbell Soup's Pepperidge Farm Package Development Group. The event was sponsored by Messe Dusseldorf, the producers of interpack.

Hollander began his presentation with some observations on healthcare reform in the U.S. Its goal, he noted, is to expand coverage to those who currently don't have it. It will probably have a modest impact on pharmaceutical packaging, said Hollander.
Among the things it could bring are:
• A modest increase in units packed
• Increased pressure on price
• Increased emphasis on the unit-dose format that is so much more prevalent in Europe.

Hollander reminded his audience that it costs about 1.3 billion dollars to develop a new drug. It then takes 12 to 15 years from discovery to delivery to a patient.

Pharma companies are faced not only with an increase in the complexity of the products they make but also with an increased focus on keeping costs in line. Yet in spite of this cost-consciousness, pharma companies also need to reinvest in high technology. That's where "simplistic flexibility" comes in. It's the kind of packaging equipment that can produce smaller lots and change over quickly, so that in effect the equipment helps the Pfizers of the world manage both complexity and cost.

Hollander also observed that Pfizer is shifting to a more patient-oriented approach to its package design in an effort to leverage the package to enhance the patient's understanding. "It's patient as consumer and not just a person who feels better after taking a medicine," he said.

Pepperidge Farm's Peters noted that while the serious economic downturn in the U.S. has had a clear impact on the way people buy products, it also presents some opportunities if food companies can understand how badly consumers want to "right-size" their lives. She also noted that while consumer macro trends haven't changed dramatically, "how we address them in the marketplace must rapidly evolve," said Peters.

Like Pfizer, Pepperidge Farms is keeping a close watch on costs. But it is trying to take a holistic approach in this regard. For example, it may make economic sense to invest in a higher barrier material for Goldfish and pay more initially for the material if shelf life is consequently extended and production runs can be scheduled less frequently. The savings in operations costs will offset the upcharge in the cost of packaging material.

External collaboration and partnerships with suppliers are also key priorities at Pepperidge Farms, said Peters. Simple meals, wellness, convenience, and shopability are other drivers shaping the firm's business plans.

Peters advised suppliers of packaging to know the customer's business and anticipate its needs. A keen understanding of the consumer and the retailer is also essential.

"Bring us new and innovative things," she advised. "And remember, we have to sell new ideas internally." Any help the supplier can provide in simplifying that internal sale will go a long way, said Peters.