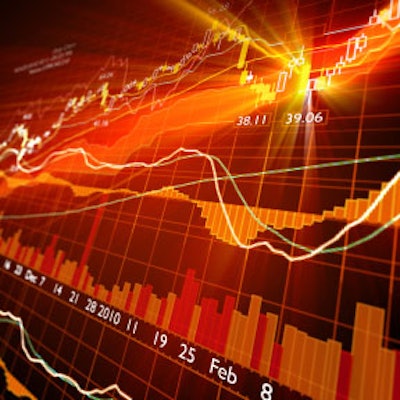 The Packaging Machinery Manufacturers Institute (PMMI) trade association's Fourth Quarter 2010 Economic Outlook notes that leading macroeconomic indicators all suggest ongoing recovery through the remainder of 2010 and 2011.
There are signs of slower growth next year, most notably from the U.S. Leading Indicator and the Purchasing Mangers Index, but there is no clear evidence to support a double-dip recession, the report says. Among the report's highlights are the following:
• Corporate Bond Prices have resumed an upward march after dropping briefly in late 2009.
• The U.S. Leading Indicator has fallen steeply since it peaked in March. The drop resulted from recent stock market "roller coaster rides," declines in building permits, and faster supplier deliveries.
• The Purchasing Managers Index is also in steep decline off a December 2009 peak. The monthly Index has fallen each month since April, but has stayed in the growth range. New orders, production, and in particular manufacturers prices have seen the most pronounced deceleration.
• The Money Supply was flat for nine months, with zero change from November 2009 to July 2010. That sluggish growth has not yet acted as a brake on Industrial Production, but is one reason for the expectations of slower growth in 2011.
• The Industrial Production Index moved into "Phase B"--i.e., growth mode--in July, and is continuing the upward trend. This index is up by 0.8% over this time last year, and leading indicators and internal dynamics point toward continued growth through the end of the year, up until a slowdown in 2011.
Key comparisons substantiate the optimism expressed in PMMI's report. For example:
• Total U.S. Packaging Machinery Shipments to U.S. Industrial Production & U.S. Packaging Machinery Shipments to Nondefense Capital Goods New Orders.
• U.S. Industrial Production, which tracked with Total U.S. Packaging Machinery Shipments through the last cycle, recently transitioned into Phase B (growth). The development indicates Packaging Machinery Shipments can be expected to enter Phase B during the second half of 2010. Supporting this assertion, U.S. Packaging Machinery Shipments also showed similar performance to Nondefense Capital Goods New Orders, also on the verge of entering Phase B.
• Packaging Machinery Exports to Dollar Exchange Rate (vs Euro)
U.S. Packaging Machinery Exports move opposite the USD/EURO Exchange Rate, and in an encouraging sign for shipments, the dollar has weakened slightly against the Euro since the last report.
PMMI's 4th Quarter 2010 Economic Outlook was produced by the Institute for Trend Research exclusively for PMMI members, who may download the report at PMMI.org.