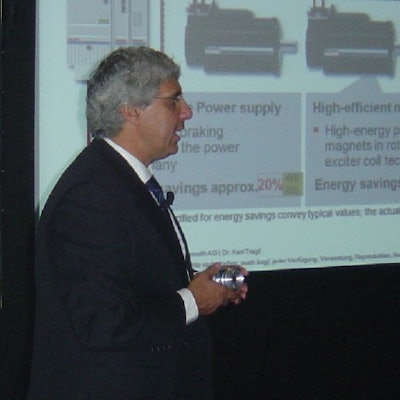 When it comes to energy savings, "customers want hard facts they can measure," Dr. Karl Tragl from Bosch Rexroth, told a Pack Expo audience Monday morning, October 5, 2009. "And payback must be within three years."

According to Tragl, in Europe, industry consumes 37% of energy and 2/3 of that is consumed by drives and motors. So if machine builders and end users focus on the biggest block of energy consumption, which constitutes a significant portion of life cycle costs, they can realize measurable energy savings. Tragl did not have figures for the U.S.

Tragl talked about Bosch Rexroth's 4EE program which targets four significant areas: efficient components, energy on demand, energy recovery and designing for optimization.

According to Tragl, using no additional sensors, Bosch Rexroth can employ cycle times and energy analysis tools to prevent unnecessary acceleration or deceleration and reduce machine running times and idle times.

Tragl showed a case history where a beverage packager saved 35% on energy costs, not only by using efficient components, but also by taking energy from braking, and saving it up to use in the next function. (Energy regeneration).

Tragl also addressed safety, saying regulations are coming to Europe, and OEMs and end users want safety integrated into their system where they can add pieces and components that have been pre-qualified rather than having to redo their system.

Training is actually easier for energy efficiency, said Tragl, because it involves simple physics. But training for safety incorporates both the technology and an understanding of regulations and regulatory agencies.





Companies in this article