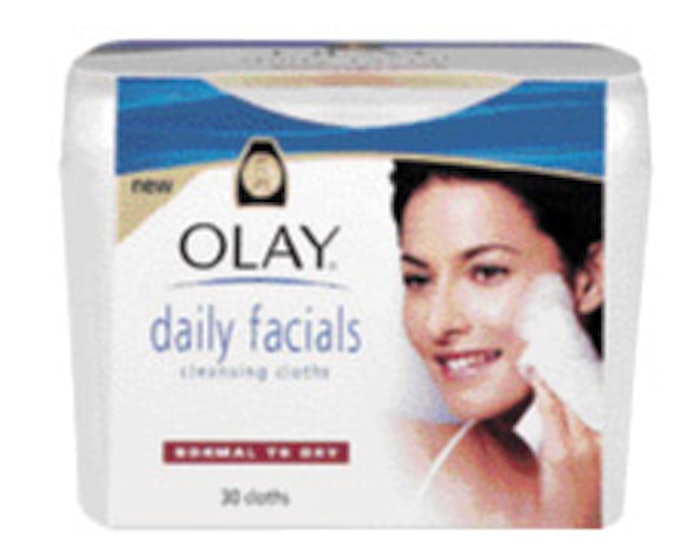 That's according to a new study from market research firm Information Resources Inc. (http://us.infores.com).
"Personal care manufacturers should explore new product opportunities and new on-the-go positioning opportunities for existing products, such as trial sizes for everyday use to capitalize on emerging interest in convenient personal care," the report says. IRI's analysis of personal care product use finds that 60% of consumers groom "on the go." And 47% of consumers use personal care products in the workplace.
"The phenomenal success of Oil of Olay Daily Facials [shown] and Listerine PocketPaks illustrate the market potential," the study notes.
IRI also pointed out that the nature of "convenience" is changing; in the consumer's mind, "quick and easy" is no longer enough, and the challenges that brings for convenience products will also have ramifications in packaging. The study noted an underlying shift in demographics as one principal driver of the trend.
The market for convenience products remains strong, IRI says. The challenge is for brand managers and retailers across all categories to identify how their target consumers' needs are changing and what additional benefits beyond convenience have become requirements as a condition of purchase.
On-the-go, and easy-to-use packaging has become prevalent over the last five years in snacks and, more recently, ready-to-serve meals that also carry a "better-for-you" message. —Jim George
Companies in this article