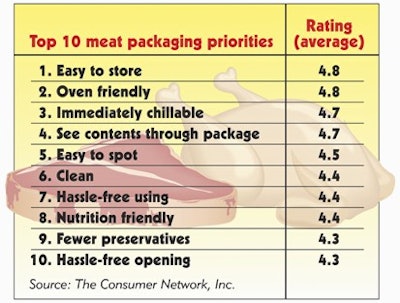 Earlier this year, The Consumer Network distributed a mail survey to 1ꯠ shoppers in the United States. The survey asked recipients to select one of 12 product categories where they felt packaging needed improvement. Of the 420 overall survey respondents, 38 targeted meat and poultry packaging.
Each of those 38 respondents rated 76 individual meat and poultry packaging priorities. Ratings were based on a five-point-scale, with a five indicating an urgent need, a one indicating little or no need. The accompanying graphic lists respondents' top 10 priorities, based on average.
Survey findings showed that consumers distrust merchandising practices where the "worst" side of the meat is packaged face-down, misleading them about the amount of bone and fat in the product. Other consumer complaints included package sizes that were too large, forcing the purchase of more meat than needed, leaky packages, and being forced to pay for the moisture absorbed by pads, referred to by some respondents in the report as "yucky diapers."
Companies in this article