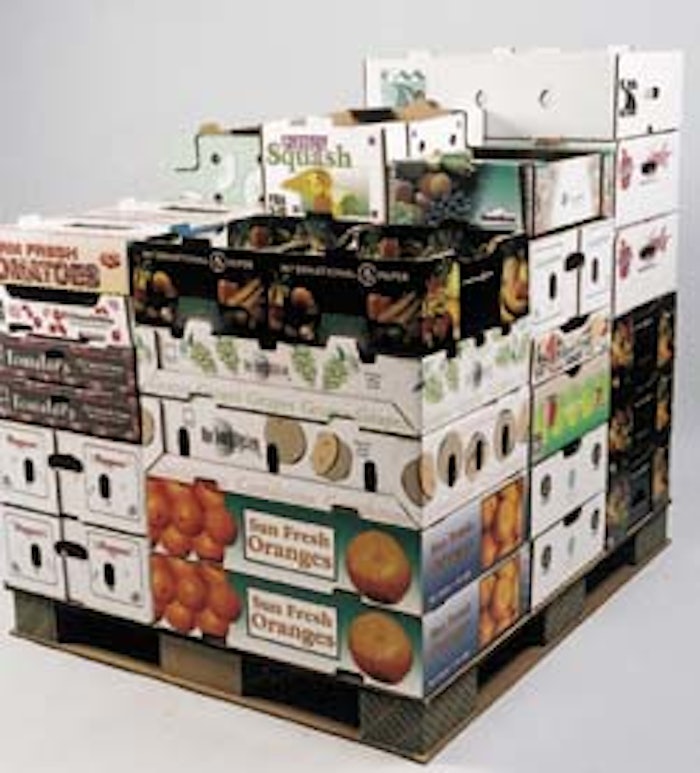 The Fibre Box Assn. (Rolling Meadows, IL) has announced an agreement with Europe's corrugated box group on compatibility size standards. In the United States, the standard is known as Common Footprint Containers (CFC). It permits two sizes that interlock and can be interstacked.
"Compatibility. . . is important for retailers that source fresh produce internationally," says Bruce Benson, president of FBA. "The containers must work together to realize the cost benefits of modularity in this environment." The European Federation of Corrugated Board Manufacturers (FEFCO) has also developed a standard that is very similar to FBA's. Not only are container sizes compatible, but all containers will work well with either European or U.S. pallet sizes.
"Handling full and mixed-load pallets becomes much more efficient with harmonization of tray sizes and interstacking systems," said Jean-Pierre Lardillon, secretary general of FEFCO.
This summer, retailer A&P tested the CFC containers in 126 pallet loads shipped from five fruit packers in Florida. After arrival at A&P's Detroit distribution center, loads were broken down and repacked into mixed loads for shipment to local stores. Trays of produce arrived at stores without container or product damage, the retailer reported.
Companies in this article