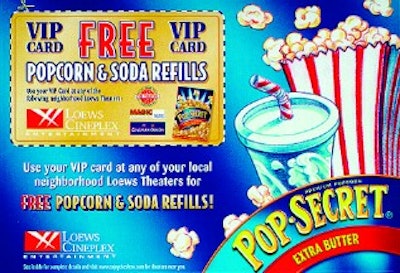 Graphic design was the only change to the 10.5-oz promotional popcorn package. Minneapolis, MN-based GM dedicated the back panel to the giveaway and includes the Loews Cineplex Entertainment VIP discount card, copy, and movie popcorn and soda imagery. Promotional copy enhances the Pop-Secret design on the front panel. The 18-pt coated recycled board is offset-printed by Graphic Packaging (Gordonsville, TN) in five colors.
To be cut out by consumers, the VIP card gives moviegoers free refills of popcorn or soda at all Loews theaters. The Loews VIP promotion pack retails for $2.39 in grocery stores throughout the U.S. in Pop Secret's Extra Butter, Jumbo Pop, and Movie Theater Jumbo Pop flavors.
Companies in this article
Videos from Graphic Packaging Intl.