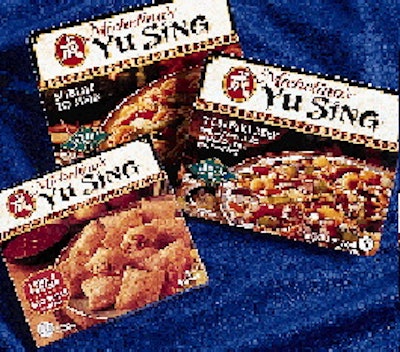 Both brands are the property of Sanford, FL-based Luigino's.
Among the changes Luigino's implemented was a new "low fat" icon. Previously displayed as a banner, a new diamond shape identifies healthful entrees. Plewes Vertouche Design Group (Toronto, Ontario, Canada) helped create the updated image for all brands, which includes enhanced billboard space and larger logos to reinforce brand identity.
Yu Sing entrees are packaged in a two-piece tray and lid. Both are 18-pt Printkote® ovenable paperboard from Westvaco (New York, NY). It's offset-printed in up to six colors, depending on variety, then electron beam-cured for high gloss and durability.
Yu Sing egg roll products are in cartons from Malnove (Omaha, NE). They're made of 14-pt SBS with a 1/2-mil layer of high-density polyethylene inside, and they're offset-printed in five colors with an aqueous coating.
In total, there are five egg roll snacks, four fried rice items and nine entrees. Suggested retail price is around $1.29 for the entrees. Egg rolls are around 99¢.
Companies in this article