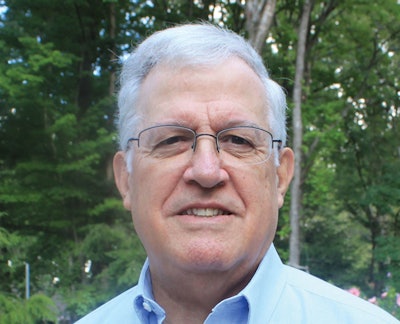 Perhaps we should consider convening a digital meeting of inventive minds to determine if and how a new generation of materials with innovative characteristics and improved capabilities might become practical (economic) packaging options in the next few years.
To convene such a digital discussion I'd have to rely on at least one of the Davids in my Roladex*: David Newcorn, digital media strategist for this publication and all the other publishing interests of PMMI Media, David Luttenberger, Global Packaging Director of Mintel Group, or son David, who's the web development manager for WTWH Media.
Imagine what the outcomes might be if packaging development professionals like you and the following accepted our invitation:
• Herbert Waite, Ph.D., Professor of Molecular, Cellular and Developmental Biology at the University of California, Santa Barbara. Dr. Waite has been studying the structure and functionality of giant squid beaks—"the hardest and stiffest wholly organic materials known." Curiously, the beaks are rooted in the muscles of the boneless squid bodies where they gradually transition from flaccid tissue into formidable clamping weapons (see pwgo.to/1495).
Waite wonders how the structure might be replicated in a polymer. We wonder if such a rigid-to-flexible polymer might be converted into a new hybrid packaging format—a flexible pouch with, perhaps, an integral injection-molded base.
With Waite at the meeting, we'd take the opportunity to ask him about his research into the underwater adhesive tenacity of mussels and how that power might be transformed into implantable medical adhesives (see pwgo.to/1496).
• Cindy Conner, Senior Market Manager, Consumer, Industrial and Medical Products at Battelle Memorial Institute and Stu Stein, Director of Open Innovation at Mondelez International. Battelle and Mondelez are collaborating on the development of a low-tack adhesive closure/opener for flexible pouches that could be printed on the lips of pouches as a low-cost alternative to plastic "tongue and groove" or "hook and loop" zippers. Conceivably their collaboration—in addition to lowering the cost/raising the functionality of multiple opening/reclosing pouch closures—could result in the development of serpentine closures that follow the contours of shaped pouches (see pwgo.to/1497).
• Errki Hellen, Research Team Leader, Fiber Product Manufacturing Technologies, and Raimo Korhonen, Head of Research at the VTT Technical Research Centre of Finland, Ltd. VTT's world famous research and technology operation generates more than US$325 million in revenue annually by actively incubating idea eggs into production technology hatchlings. Two VTT developments with more than passing packaging potential include a paper/board production technique that substitutes foam for water to produce a lightweight, strong thermoformable paperboard (see pwgo.to/1498), and a method to print large-surface organic light-emitting diodes (OLEDs) onto flexible films. Luminous warning labels could be an early spawn of this development, with animated package graphics something that'll need more discussion.
• Paul J. Zepf, Director of Engineering, Zarpac, Inc. Paul is a machine-design wizard who has developed innovative system and software approaches to produce and package a variety of commercial household products. For any of these science and technology advances to be transformed into practical packaging applications, they'll have to be machinable, and there are few machine designers more capable than Zepf.
*Just kidding! While I still do have stacks of business cards scattered around my desks, my Outlook e-mail directory is my go-to contact reference these days.
About the author: Ben Miyares, Packaging Sherpa, is a packaging market and technology analyst and is President of
The Packaging Management Institute, Inc. He can be reached at bmiyares@packmgmt.org.