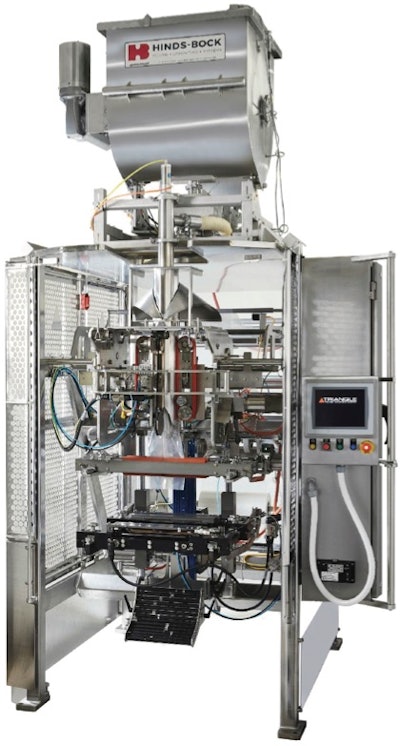 As flexible packaging continues to grow in popularity partly due to its sustainability bona fides, it comes as no surprise that innovations in both vertical and horizontal form/fill/seal systems were on full display at PACK EXPO Connects. Here we take a brief look at seven notable developments, beginning with one from Triangle Package.
For liquid or semi-liquid fill applications, Triangle's new Model XYTLF (vf/f/s) bagger (1) offers greater throughput, superior sanitation, and material savings, according to the company, all without a required film contract. Designed for foodservice and other applications, including hot fill and pumpable products, Model XYTLF packages products such as soups, sauces, mashed potatoes, bakery batters, and fruit fillings, as well as ready-to-eat macaroni and cheese. Speeds run up to 30 gal/min.
Model XYTLF offers several unique benefits, including improved productivity thanks to an innovative design that uses servo filling with squeegee staging for better precision, flexibility, clean seals, no leakers, and less air in the bag.
Sanitary design features include quick removal of sealing jaws and back seal components for easy washdown, hygienic IP69K stainless steel motors with air purge, and pivoting control box for four sides of machine access. To top it off, optional features include ultrasonic sealing for higher speeds and 100% seal integrity, and check weight feedback for precise filling.
Visit Triangle's PACK EXPO Connects Virtual Showroom at PE.show/140.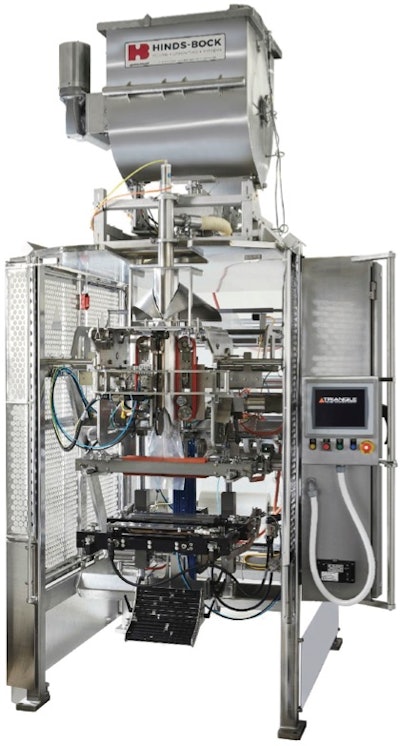 BW Flexible Systems' new Hayssen ISB vf/f/s solution (2) aims to provide best-in-class sanitary design, modern industrial machine intelligence, and intuitive operation for vertical form-fill-seal packaging. To develop the ISB (intelligent sanitary bagger) BW Flexible Systems conducted voice-of-customer interviews in target markets—including fresh produce, frozen/individual quick freezing (IQF), and cheese—asking about pain points and preferred features.
"What we heard in those conversations was a need for an unparalleled hygienic design that was both easy to change over and flexible and intuitive to operate," said Ed Haarsgaard, BW Flexible Systems' Sales Leader for new machinery.
The entire machine is high-pressure washdown capable, including its human-machine interface (HMI), which would typically require protection due to its sensitive components.
Furthermore, the Hayssen ISB uses standoffs and flanged fasteners to eliminate secondary hardware like washers, and the bagger's film rollers are fully removable without tools and come completely sealed with lifetime bearings.
Visit BW Flexible Systems' PACK EXPO Connects Virtual Showroom at PE.show/146.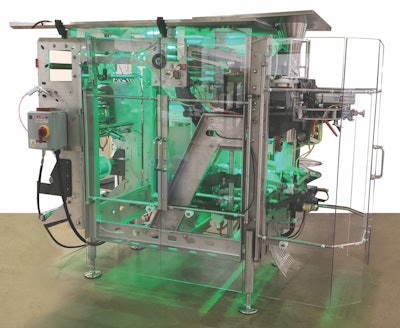 Mark Stenske, Service Manager for Matrix, a ProMach brand, used PACK EXPO Connects to demonstrate how the Matrix Bag-in-Bag provides an innovative way to fill single-serve and multiple-serve pillow bags in an overwrap or master bag.
The Matrix Elete Bag-in-Bag machine is essentially two machines in a single frame. In the demonstration, one bagger above was feeding into another below in a single enclosure. In a ground coffee application, the top section packages product into heat-sealed filter paper pouches, and the lower section bags those pouches in metalized film packs. Both rolls of filter-paper material and foil film are on the back of the machine. On the front, pull belts advance the upper filter paper as the vertical seal bar intermittently seals the top, and the end-seal jaws separate each filter-paper pouch, dropping them into a funnel to introduce the second portion of the machine.
See ProMach Matrix's PACK EXPO Connects Virtual Showroom, at PE.show/300.
According to WeighPack Systems Inc., its extremely versatile XPdius Elite 1700 vertical bagger (3) is able to fill bags up to 17 in. W x 24 in. L and includes film tracking, tool-less removable pull belts, forming tube, and film roll. Available options include bag gusset attachment, gas flush, hole punch, tare notch, polyethylene sealing assembly, pivoting bag support, bag tapper for product settling, and lot code printing.
Capable of producing up to 3,000 large-format bags per hour, the XPdius vertical bagging machine includes twin servo motors and drives for its pull belt assembly and horizontal seal jaws. These drives assure total control over acceleration, deceleration, and positioning while ensuring high performance throughout production.
Visit WeighPack Systems' PACK EXPO Connects Virtual Showroom at PE.show/796.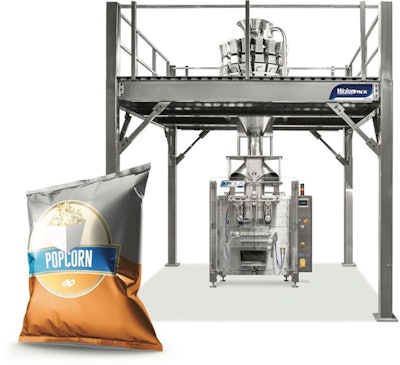 With increased snack food demand in 2020, pouching systems have been a popular choice for machinery due in part to the pandemic and people spending more time at home. At PACK EXPO Connects, PPi Technologies Group showcased the new SN FME 50 (4), a small-footprint hf/f/s machine from SN Maschinenbau designed for short lead times and an entry level price point for end users packaging snack foods, gummies, herbs, spices, powdery products, lotions, and more.
Thom Cain, sales support manager at PPi, said that for the past few years, the industry has seen a push to run thinner, monomaterial films because multi-layer films aren't easy to recycle. "But if a machine is not designed to run that material, it can rip." With package sustainability in mind, the SN FME 50 is designed to run recyclable films, pulling evenly to avoid tearing without sacrificing speed.
The system runs at speeds up to 100 pouches/min and is capable of format changeover (toolless, as much as possible) in less than 15 min. With a small footprint of approximately 12.0 ft. × 4.10 ft. × 6.6 ft., the system doesn't require much space to get new packaging capacity up and running.
With an added multi-head weigher (from a scale vendor) the machine can run gummies, which have seen increased demand in the nutraceutical and cannabis industries. Delivery speed is a main feature of the SN FME 50—remote installation can be completed in a few days.
View PPi Technologies Group's PACK EXPO Connects Virtual Showroom at PE.show/486.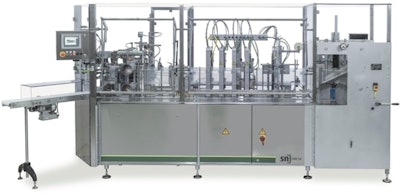 New from Cloud Packaging Solutions, the CMR II continuous-motion hf/f/s machine can be configured for a wide range of complex filling applications. Among its features, the machine can handle pouches from 4 to 12 in. W × 6 to 15 in. H, with a gusset of zero to 5 in., operates at speeds to 140 pouches/min, is compatible with a wide variety of zipper closures, and is USDA-washdown sanitary.
According to Kyle Scalise, Global Account Manager at Cloud Packaging Solutions, who unveiled the new machine during a live demo at PACK EXPO Connects, "Cloud developed this machine as the next generation of our existing machine, the CMR 1500. The CMR has been very successful for us over the years in all dry-flowable piece applications, especially with very large fills. It has been embraced specifically in the pet food industry where products have difficult geometries and large fills, where a traveling funnel extends the fill time, allowing more time for the product to get into the pouch."
See Cloud Packaging Solutions' PACK EXPO Connects Virtual Showroom at PE.show/519.
Inspection systems aplenty
Featured at the Peco Inspx PACK EXPO Connects showroom was the ScanTrac Fermata X-ray system, which provides high-resolution X-ray inspection for products conveyed through a pipeline. It has a variable-diameter inspection plate assembly for accurate and repeatable inspection of product flow. Metal ceramic X-ray tubes enable the Fermata to identify small pieces of foreign material, such as bone, metal, glass, and rubber.
The system can be equipped with a remote monitor for the inspection of pipelines off the production floor. The standard Fermata configuration includes a 4-in. diameter inspection pipeline assembly and a positive-acting two-way discharge valve assembly with mounting.
The Fermata is designed to work with piston pump systems. Material flowing through the pipe must be continuous with no air pockets. The Fermata pipeline system inspects bulk flowing through a pipeline at speeds up to 600 ft. or 300 gal per min. From proteins to vegetables and fruits, product conveyed in bulk through a pipeline can be inspected for foreign contaminants prior to packaging. Rejected product is diverted for disposal or further inspection.
Visit Peco Inspx's PACK EXPO Connects Virtual Showroom at PE.show/161.
THiNK, a new artificial intelligence tool (5) integrated on Sesotec metal detectors, is designed to help food processors produce safe food, comply with food safety guidelines and regulations, reduce waste, and protect their consumers and brands. The tool can virtually eliminate the influence of product defects and provides accurate detection of metal parts, with fewer false rejects.
"We're using artificial intelligence in metal detection to detect smaller contaminants than before," said Christian Stadler, Group Director of Marketing at Sesotec. "This allows for higher food safety."
According to Sesotec's live demo at PACK EXPO Connects, it's difficult to detect metallic contamination in a product if the packaging contains metal or metallic film. THiNK technology has the advantage of working well with metalized packaging.
See Sesotec's PACK EXPO Connects Virtual Showroom at PE.show/529.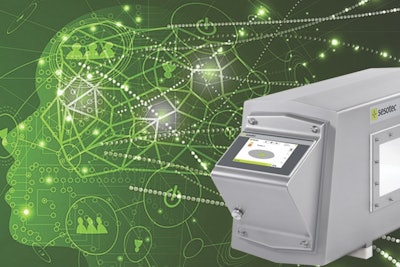 Making its debut at PACK EXPO Connects, the Thermo Scientific Sentinel 1000 Selectscan metal detector (6) employs fully flexible frequency optimization per application with frequencies from 50 to 1,000 kilohertz. "With a single-frequency metal detector, you only have one chance to pick the right frequency that fosters the highest level of metal detection," said Alex Kinne, applications engineer for Thermo's product inspection division. Processors can also use Thermo Scientific's Auto Learn feature to pick the frequency, Kinne explains.
"Customers need flexible inspection solutions that don't compromise performance," said Kinne. "Often, customers will run multiple products on the same line in the same day. So, Selectscan technology was developed around the principles of performance, efficiency, and ease of use."
The Selectscan metal detector works well for dry, inert products that have relatively low product effect, such as dry pasta or frozen foods. The Selectscan's single frequency is optimized per application. "If you change product files, you may choose or may change frequencies to a different, yet optimized, frequency," Kinne added.
According to Kinne, the Sentinel 1000 provides a high level of metal detection for food safety, reducing the risk of costly recalls due to contamination. "Audits are made easy with our Quality Assurance Check feature, which streamlines the audit process and stores records automatically," Kinne explained.
See Thermo Scientific's PACK EXPO Connects Virtual Showroom at PE.show/125.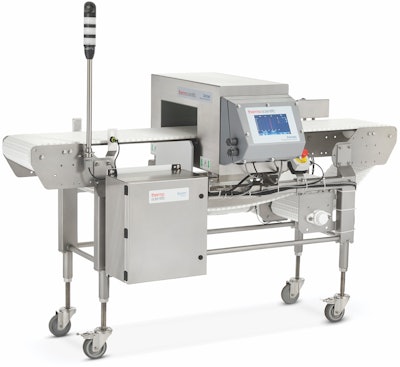 A new X-ray inspection system (7) from Mekitec uses separate, dedicated X-ray beams to provide better coverage of packaged beverages and liquid and solid foods. At PACK EXPO Connects, the equipment maker demonstrated its latest innovation—an X-ray system that provides precise primary packaging inspection for products that are taller than they are wide.
The Sidemeki system uses dual focal spot X-ray technology to inspect both liquid and solid packaged products. This technology enables the system to not only see foreign objects, which more typically settle near the bottom of the package, but also the fill levels or cap placement, for example, near the top of the package, noted Juho Ojuva, director of global sales and customer care at Mekitec.
"You have a fixed generator looking at the bottom of the product. Then behind it is an adjustable X-ray generator that you can use in order to have the best image of the top part of this product," he explained. "You can, depending on the application, have a Sidemeki system with one of these generators or both, depending on what you need to do with the system." The X-ray beams are adjustable for various product sizes.
The Sidemeki comes with different connection options—both a side-feed option that connects in parallel to the existing production line and an end-feed option that connects directly to the existing production line. The side-feed option "is good for products that have difficulty moving from one conveyor to another," Ojuva said.
Visit Mekitec's PACK EXPO Connects Virtual Showroom at PE.show/241.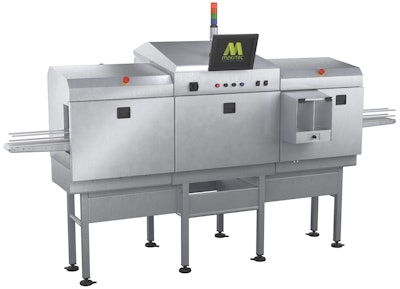 Liquid Filling
Pneumatic Scale Angelus, a Barry-Wehmiller Packaging Systems company, demonstrated a filler and seamer (8) with a growing beverage market in mind. To meet the growing demand for hard seltzers, ready-to-drink cocktails, sparkling wine, and higher-carbonation beer, the CB50C counter-pressure canning line meets the high-speed applications needs of the Craft market.
Counter-pressure technology allows filling of highly carbonated beverages—in excess of 2.7 vols of CO2—by maintaining equivalent pressure in the can being filled and the product tank supplying the product. Maintaining this pressure prevents breakout, or excess foaming, that releases CO2 and ultimately lowers carbonation. True isobarometric filling, with the fill tank located above the fill heads, allows product to be gravity-fed versus pumped upward, ensuring less product agitation for a quiet fill and lower CO2 loss.
See PSA's PACK EXPO Connects Showroom at PE.show/283.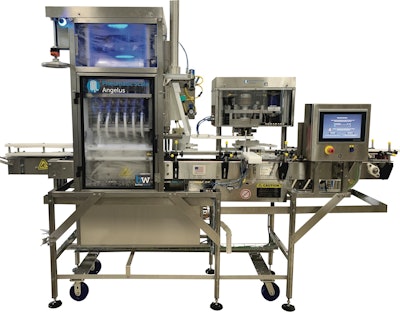 Loma Systems' new IQ4 RUN-WET Metal Detector Conveyor (9) debuted during PACK EXPO Connects. The system is specifically designed for high-care environments where machinery clean-up is particularly harsh and frequent.
The RUN-WET specification of the Loma IQ4 Metal Detector is IP69k rated and hygienically designed following some of the key EHEDG (European Hygienic Engineering Design Group) principles offering the best cleaning standards to withstand harsh high-pressure and high-temperature cleaning regimes, while maximizing production efficiencies.
"The IQ4 RUN-WET includes a number of enhanced hygienic features that directly meet the needs of some of our users' top concerns," said Antoine Dodier, customer relations manager at Loma Systems, an ITW Company. "Not all processing equipment is made to withstand harsh environments, in fact, some parts of the processing line are simply covered during washdown."
See Loma's PACK EXPO Connects Virtual Showroom at PE.show/415.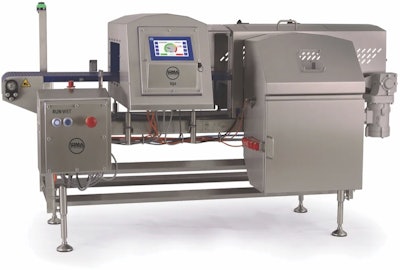 Built for harsh environments, the Mettler Toledo C35 checkweigher (10) delivers precise weighing results on a stable weighing platform that is resistant to high-pressure washdown and most caustic detergents. The system frame is designed according to hygienic principles, with access for cleaning and sloped surfaces to discourage liquid collection. The system supports speeds of up to 250 packs/min and a weighing range from 25 g to 7 kg.
The C35 checkweigher fits a wide range of situations that require reliable weight control, including food processing. Optional conveyors and handling features, including guiderails to ensure smooth product handling, can transport open products such as jars, trays, and cans. It also enables companies to inspect 100% of their products, segregate non-conforming packages, and collect production data using one of two optional weight data interfaces.
According to Keri Klein, Product Line Manager for checkweighing, the C35 checkweigher can be equipped with infeed and discharge side grip transports to move open containers safely and efficiently down the conveyor line to eliminate spillage at transfer points. "These side grips are adjustable to accommodate product specifications and securely guide the product from the customer's conveyor onto the infeed of the checkweigher. On our infeed conveyor, we offer small-diameter rollers to facilitate smooth internal transfers across the weigh conveyor and to the outfeed conveyor for seamless, accurate weighing," she said.
The weighing of open containers as close to the filler as possible allows the checkweigher to provide filler feedback, as well as optimize fill weights by making adjustments to the filler, therefore minimizing overfilled product and reducing product giveaway. "Processors can also reject under-filled product to be reworked, ensuring compliance with label weights," said Klein. "If the process does not offer the opportunity to provide feedback, weighing product prior to capping and labeling can also save costs by reducing packaging materials that are scrapped when rejecting off-weight products."
Mettler Toledo's communication solutions include Ethernet/IP PROFINET and PROFIBUS DP OPC DA/UA, along with TCP/IP, and various serial communications solutions. Fieldbus and OPC solutions have Pack ML (ISA TR88.00.02) as a fundamental part of their base architecture. C-Series checkweighers provide real-time monitoring of critical control points (CCPs) to support end-to-end compliance with Hazard Analysis and Critical Control Point (HACCP) and Hazard Analysis and Risk-Based Preventive Controls (HARPC) principles.
See Mettler Toledo's PACK EXPO Connects Virtual Showroom at PE.show/148.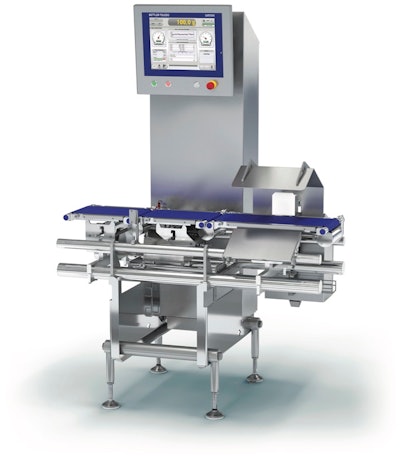 Introducing hyperspectral detection technology was Key Technology, a member of the Duravant family of operating companies, which introduced the first VERYX BioPrint digital sorter (11) at PACK EXPO Connects. As the only sorter that combines near infrared (NIR) hyperspectral detection with color cameras, VERYX BioPrint analyzes a richer set of data about the materials it is sorting to improve detection performance and maximize process yield.
The VERYX BioPrint C140 sorter for nuts removes shells, foreign material (FM), and product defects, as well as shape sorts and color grades to maximize product quality, while virtually eliminating false rejects. It can be equipped with front- and rear-mounted hyperspectral imaging sensors for all-sided inspection of each object in the product stream. It can also be configured with color cameras and Key's new Bio Fusion detection technology, which fuses information from both sensor types to identify and remove a wide range of foreign materials and defects from the product stream.
The accuracy of the BioPrint detection system uses VERYX's high-resolution ejection system, which features minimal spacing between air nozzles to better target objects identified for removal without inadvertently sorting out good product.
According to Marco Azzaretti, director of marketing at Key Technology, the BioPrint inspection technology uses hyperspectral imaging and powerful software to create a unique digital fingerprint for every type of substance that goes through the food processing line. "It enables our VERYX digital sorter to see and remove more foreign materials and product defects and, as a chemometric inspection system, can even detect internal product conditions and the chemical characteristics of foods," he stated. Going forward, Key Technology plans to develop VERYX BioPrint sorters for other applications where chemometric detection offers unique performance and customer value.
"As it continues to develop, chemometric inspection technology enables a digital sorter to know more and more about every object in the product stream," said Azzaretti. "Greater detection accuracy helps deliver a safer, higher-quality product, while simultaneously ensuring a more efficient sort process to maximize yield. What's especially exciting is the ability to leverage chemometric inspection to profile internal properties and even the taste profile of foods by sorting product batches based on sugars, solids content, and other chemical attributes."
For example, the VERYX BioPrint C140 sorter can help processors of Spanish-style almonds detect individual so-called "bitter almonds."
See Key Technology's PACK EXPO Connects Virtual Showroom at PE.show/320.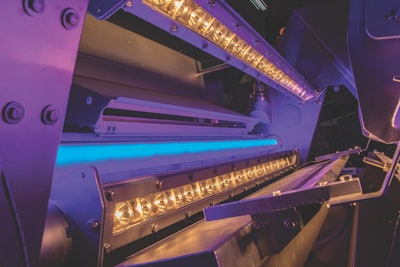 Marking and coding innovations
Videojet Technologies Inc. launched its new Videojet 1280 Continuous Inkjet (CIJ) printer (12) that has been designed with two key focuses—reliability and simplicity— making it easy for operators to use and maintain.
"While there is a push for more advanced connectivity and the Industrial Internet of Things, a lot of people just need a good, basic coder that is simple, reliable, and flexible that they can use for their manufacturing needs. And that's really the niche this product fits into," explained Mark Breunig, Videojet's Regional Product Manager for CIJ, North America. "It has the print capacity for up to five lines of print, which meets what pretty much everybody needs in these speeds for all sorts of basic coding applications. So, it's good for all the things that ink-jet gets used for—batch codes, serial numbers, barcodes, all those sorts of things."
The entry-level coder, which comes with an entry-level price, joins Videojet's existing entry-level printer, the 1220, which Breunig said provides similar speeds to the 1280, but employs the company's older, core-based maintenance system.
View Videojet's PACK EXPO Connects Virtual Showroom at PE.show/210.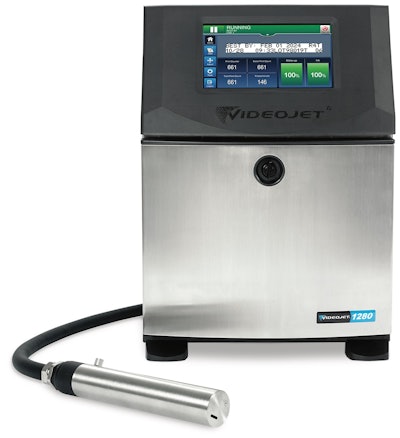 Domino Amjet Inc.'s Gx-Series thermal inkjet printer (13) made its North American debut at PACK EXPO Connects. Rolled out were two models that are built to be smaller and easier to use and integrate while having the ability to be monitored for Industry 4.0 applications.
The Gx 150i with up to two print heads and the Gx 350i with up to four print heads are designed for simple batch coding or complex coding, checkweighing, or track and trace applications across the food, beverage, and pharmaceutical industries. The Gx Series comes with new ink that is darker, dries faster, and offers better decap time.
The Gx Series offers Industry 4.0 capabilities. It comes standard with Ethernet/IP communication protocols providing a number of different ways to monitor how the printer is working and providing different reports.
See Domino Amjet's PACK EXPO Connects Virtual Showroom at PE.show/132.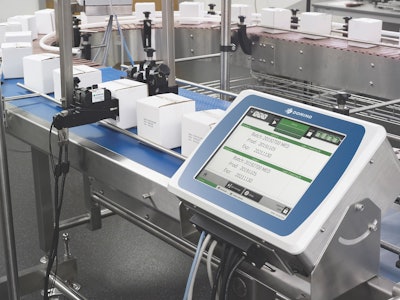 Experts at conveying
Multi-Conveyor has added to its portfolio a series of powered plastic chain conveyors that incorporate manual lift gates for operator access and pneumatic stop/clamp control for seamless merges. The new technology merges two lines fed from two existing case packers down to a single lane prior to the case sealer and palletizer.
Slightly inclined, the offset conveyors incorporate manual lift gate assemblies for operator access within a confined production area. The designated priority line conveys the cases to a right-angle transfer maintaining product orientation. Product ultimately single files to an existing case sealer, controlled by strategically placed sensors and metering devices.
Photo sensors and electrical safety switches are mounted and pre-wired for the mechanical lift gate assembly. Other features include LBP (low back pressure) transitions prior to the lift gates; stop clamp assemblies; and roller assist to maintain orientation through the right-angle transfer.
See Multi-Conveyor's PACK EXPO Connects Virtual Showroom, at PE.show/198.
RX 4.0 Thermoformer
MULTIVAC used PACK EXPO Connects to feature its new RX 4.0 next-generation thermoform packaging machines (14). Part of the X-Line packaging technology is a process that assists in the digitalization of configuration and performance according to Industry 4.0/IoT standards. Seamless digitalization, comprehensive sensor systems, and networking with the MULTIVAC Cloud can significantly improve packaging reliability, quality, and performance.
MULTIVAC Smart Services offers packages that contribute to a deeper understanding of packaging machine performance, providing data that can be used to further optimize packaging procedures and make them even more efficient.
See MULTIVAC'S PACK EXPO Connects Virtual Showroom at PE.show/180.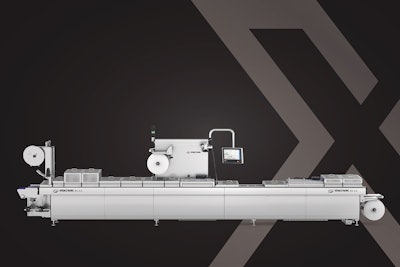 During a live demo at PACK EXPO Connects, Intralox discussed the flexibility and efficiency of its Activated Roller Belt (ARB). According to Paul Neuschwander, Global Advisor for the Intralox packer to palletizer team for beverages, the team combines the best ideas and layouts from around the world and uses this information to reduce project risk and timelines, and create better plant floor layout designs.
This knowledge, along with ARB technology, allows Intralox to combine multiple pieces of equipment into one piece of machinery, providing space saving on the plant floor, while often reducing capital expenditure.
Intralox Packer to Palletizer ARB technology lets end users reduce the number of conveyors needed, shortening installation time and reducing labor. In fact, Neuschwander said one end user was able to double its filling capacity after installing an ARB solution.
View Intralox's PACK EXPO Connects Virtual Showroom at PE.show/175.
Offering six times faster changeover, Piab's Changeover Champion vacuum conveyor piFLOW®p SMART enables users to save time when changing from one material to another, increasing the productivity of their operations. The new technology made its debut during PACK EXPO Connects. According to the company, a changeover that would take one hour in a conventional vacuum conveyor takes only 10 minutes in the company's new vacuum conveyor.
The piFLOW®p SMART is a self-optimizing vacuum conveyor targeted primarily at industries handling many different materials and/or those in which frequent changes need to be made. With each new conveying cycle, the piFLOW®p SMART uses machine learning to automatically tune the process by configuring and optimizing a flawless flow of materials, set at the correct rate.
"After just a few cycles, piFLOW®p SMART has figured out what type of material it is dealing with and will automatically adjust itself to optimize how the material is conveyed. There is no longer a need for operators to re-adjust settings between different batches of materials. piFLOW®p SMART will do it for you with higher accuracy than even the most experienced operator can deliver," explained Milan Bratt, Product Manager Vacuum Conveying.
See Piab's PACK EXPO Connects Virtual Showroom at PE.show/206.
Septimatech featured its new enhanced Multi-Lane Guide Adjust System (15), which eliminates change parts, lane spacers, and heavy lifting equipment that cause unnecessary downtime, ergonomic risks, and expense. With this system, one person can adjust a 30-ft section of case packer accumulation lane dividers and lane guides simultaneously from one location in seconds. That's a job that would typically take two people 35-50 minutes to do.
The Multi-Lane Guide Adjust system creates up to seven lanes with a minimal width of 1.5 in. Adjustments are repeatable and accurate up to ±1 mm with no fine-tuning required. The system can be installed on existing support systems and dividers.
A large CPG company with nine changeovers per month noted that the ergonomic risk is essentially eliminated with the Multi-Lane Adjust system, with no chance of operator injury, according to Mike Carey, Septimatech Account Manager for Eastern Canada and North Central U.S. The operator makes the adjustment from a single standing location in front of a chest-high wheel adjustor, requiring no ladders or heavy, awkward lifting. "This same customer recorded a 3% increase in OEE that guaranteed the return on investment of less than one year," Carey said. Visit Septimatech's PACK EXPO Connects Virtual Showroom at PE.show/172.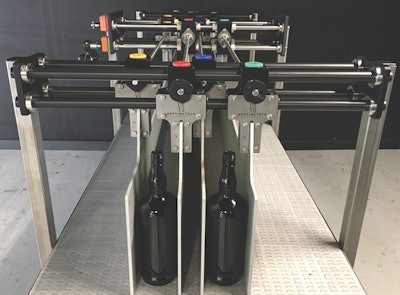 Case packing innovations
Aagard at PACK EXPO Connects featured their Myrias case packing concept. Why "Myrias?" Because with this machinery they solved one customer's business challenge by developing an automated case packing system that produces variety packs in a myriad of configurations—more than 4,000—ranging from 1-6 flavors and permitting case counts of 12 to 96. Oh, and it operates at 100 cases/min.
According to Aagards's Jason Norlien, Vice President of Technical Sales, lots of brand owners recognize the growing marketplace demand for variety packs. But too often they're just not equipped to produce such formats, so they wind up sending palletized cases to a contract-packager who tears the cases apart and re-packages the case contents in the variety format—usually by hand. Myrias is designed to address this dilemma by permitting the brand owner to bring variety packing in-house.
View Aagard's PACK EXPO Connects Virtual Showroom, at PE.show/214.
Heat and Control, Inc., took advantage of PACK EXPO Connects to how its world-leading food processing and packaging equipment.
For meat, poultry, seafood, vegetables, and a growing menu of other prepared foods, Heat and Control builds a range of equipment for coating application, cooking, grill marking, and searing solutions. Snack food processing is another specialty. From unloading raw produce to frying, conveying, seasoning, packaging, and inspection, the firm provides all the equipment and services required to make the highest quality snack foods while achieving higher capacities and lower production costs.
On the packaging equipment side, one notable highlight at PACK EXPO Connects was the automatic case packer ACP-700 Series, which offers production efficiency not experienced to date. It provides additional flexibility, enhanced line communications, and easy operator interface while significantly improving the changeover cycle of case packing. Ideal for the snack food case packing industry, which has been asking for effective automation and communications between the weigher, bagmaker, and case packer, this end-of-line solution significantly improves efficiency and performance.
With the case packer's controls system's feed-forward and feed-back features, the flow of bags is more measured and controlled. This reduces bottlenecks by continuously adjusting settings as bags are running through the system. The machine uses feed-forward communications to the case packer and feed-back communications to the bagmaker. Plus, a seal checker continuously monitors fill level and compares bags to the targeted value so the case packer can automatically optimize the machine operation appropriately, as well as check for leaking bags.
Visit Heat and Control's PACK EXPO Connects Showroom at PE.show/355.
Compact palletizing
The new compact and flexible HL2200 high-level palletizer (16) from Columbia Machine, Inc. includes a VFD (Variable Frequency Drive)-controlled hoist, a bi-parting layer apron, centering side layer guides with Smart Squeeze technology for misformed layer detection, and more. According to the company, the HL2200 is capable of palletizing virtually any package type, including unwrapped trays, film-only bundles, plastic totes, RPCs, and others. When equipped with optional small-case handling components, the HL2200 is ideally suited to palletize very tall and narrow product even with a high center of gravity.
Options include Smart Diagnostics with video playback to assist maintenance personnel in identifying the cause of a machine stoppage and a servo-actuated touchless turning infeed for gentle package handling, display-ready case orienting, or four-way "labels out" layer forming.
Visit Columbia Machine's PACK EXPO Connects Virtual Showroom at PE.show/128.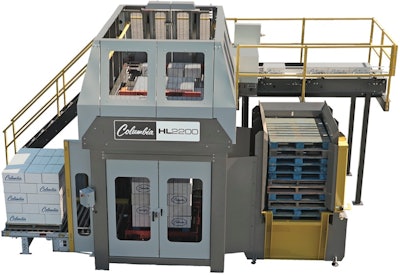 >>Other content you may be interested in:
MWC, Kraft Heinz, and CTI Foods Named Winners of Manufacturing Innovation Awards
Companies in this article