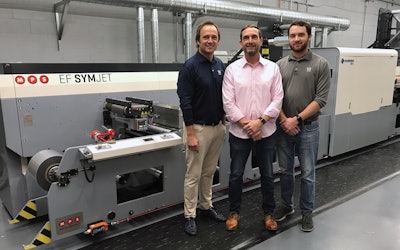 Custom label printer DWS Printing is now run by Tom Staib, whose great-grandfather founded the company when it was first established in 1865 as a lithographic company in New York City. After studying the digital print space for at least the past three years, Staib recently made the digital plunge. Or perhaps "hybrid digital plunge" would be more accurate. The press installed by DWS is an MPS EF SYMJET powered by Domino hybrid press that incorporates both flexo and digital ink-jet capabilities.
"Our business's main focus is food & beverage, and we also have a strong presence in the craft beer market," says Staib. "The craft beer market is heavily into shrink sleeve labels on beer cans, so a lot of our business was trending that way as well. We wanted to have the option to print shrink sleeves digitally for our craft beer customers. At the time there was really only one option available, and it was an electrophotography option. But I was intrigued by digital ink jet with UV-cured inks. Yet when we asked the UV-cured ink jet suppliers if they could print on shrink film, the answer was no. It's largely because the ink is hot as it exits the nozzles. Then for curing, UV light is used, which is another source of heat. The PETG label material being printed, meanwhile, is very heat-sensitive, so the material would get puckered or otherwise distorted. Or even if we did manage to print the material okay, when it came time to convert it into a tube the ink would crack or peel off. Bottom line, there just wasn't a UV-cured inkjet solution."
Rather than giving up, Staib and colleagues pressed forward, and in time they began to see signs of progress. "The quality of the UV inks was improving," says Staib. "We liked the speed of UV inkjet, too, and the knowledge that, unlike the electrophotography option, the press wouldn't be down that often for maintenance. That's one of the things we learned from all the reference checks we did as part of our research. Eventually we got to the point where we gave the three or four digital ink-jet press manufacturers that we'd identified as potential suppliers a dozen or so art files and a variety of substrates to print on, from white film to semi-gloss paper to metallized film to clear film and so on. We measured print speeds, quality, and a number of other criteria in our evaluation. It was toward the end of this period of evaluation that Domino came out with its UV90 ink set, which proved to be the game changer. In short order the idea of a hybrid press came into view. It would let us print digitally, lay down white in a flexo station, and get high speeds plus high quality plus all the short-run/variable-data printing benefits of digital—all in one pass."
Picking a flexo press
The only thing left to decide was which flexo press maker to pick, as Domino partners with several. "We opted to go with MPS because we have a real comfort level with them," says Staib. "Their flexo platform is sophisticated and their equipment is highly automated. So that, in a nutshell, is how we wound up with the MPS EF SYMJET powered by Domino hybrid press. We have two flexo units in the front plus a gold foil station on one of them. Then we have the Domino N610i seven-color narrow-web digital print engine, then two more flexo units afterwards with a turn bar so we can flip over the material to put a matte coating down. To my knowledge, we are the only ones in the country printing shrink sleeve material on a digital UV ink jet/flexo hybrid press."
Complementing the hybrid press operating at DWS is a newly established division that applies shrink sleeve labels to cans. Once again, the craft brew crowd is what made this move so appealing.
"We have a lot of connections in that beer segment, so we felt it would be a good fit for us," says Staib. "Why print labels and then send them out to a third party to do the sleeving? It made much more sense to bring it in house."
Staib says he appreciates how closely MPS and Domino worked together after the hybrid press was installed to get the flexo and digital stations to communicate together so that print quality would be optimized and set up time reduced. "Domino also had to come in and do some reconfiguration of the guts of the press as well as with additional pinning lamps and chill rollers and things like that," says Staib. "All of it was so that we could use digital ink jet to print shrink film and get optimal results."
Adventure Dog campaign
Among the craft brewers that have taken advantage of DWS's shrink-sleeve label-printing and can-labeling capabilities is Devil's Backbone of Lexington, Va. "When we redesigned our Gold Leaf Lager in 2018 we thought it would be fun if we could get real-life dogs on our label," says Marisa Black, Marketing Director at Devil's Backbone. "So we created an Adventure Dog contest in 2019 where consumers could enter a picture of their dog and people could vote on which five lucky dogs would have their illustration on our cans."
Some 6,000 dog photos were entered, all from the Mid-Atlantic states to which the brewery distributes. Once the voting was done—an impressive 80,000 votes were tallied—the five winners were Poki, Archie, Clementine, Murphy, and a pair of dogs entered as a pair, Brody & Valor.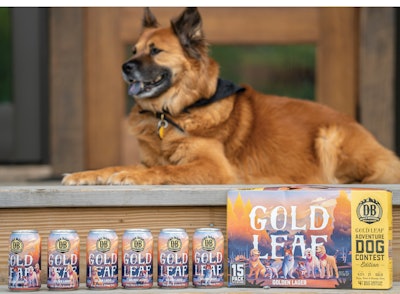 "Our illustrator Brian Miller took our Gold Leaf Lager design and customized it in six different versions—one for each individual winner and one showing the whole group of winners," says Black. "DWS with its hybrid press was able to print all six in the quantities we had in mind at a price we could afford. We could never have pulled it off without digital printing being part of the picture. The Adventure Dog campaign ran for three months this past summer, and with each 15-pack sold we gave a dollar to local pet charities."
The 15-can format was new to the brewery, having been introduced in the summer of 2018. "One of the things we accomplished with the Adventure Dog campaign was to make consumers more aware that there was a 15-can format available," says Black.
When asked if the brewery has any other plans for digital printing, Black says this. "There's nothing firm at this point, but it was such a great tool for us to be able to bring to life this marketing campaign in a way that consumers really responded to. It was an exciting project to work on, and DWS was so easy to work with."

Companies in this article