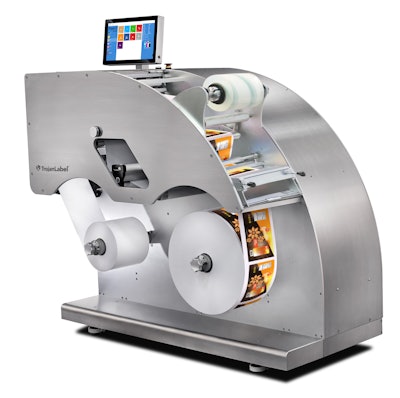 At PACK EXPO Las Vegas, AstroNova, Inc. is debuting its TrojanLabel® T2-L, which it says is the world's first narrow web digital flexible packaging press. Designed for both short-run and high-volume digital printing, the T2-L is recommended for brand owners, manufacturers, and commercial printers that would like to efficiently scale and grow their businesses. According to AstroNova, when used with 70% water-based Natura™ inks, the T2-L delivers superior print quality onto flexible packaging using inks that are safer for food labels, creating significant savings for customers over the lifetime of the printer.
To support the rapidly growing digital print for packaging business, AstroNova has partnered with digital print substrate supplier Sihl. In addition to offering Sihl's environmentally friendly ARTYSIO brand packaging product portfolio for the T2-L, AstroNova is partnering with Sihl to develop a range of new flexible packaging materials. Independent auditing firm Intersoh recently awarded the highest rating for recyclability to Sihl's ARTYSIO materials, which include metallized ultra-high barrier and pure polypropylene versions.
Said AstroNova President and CEO Greg Woods, "Its high-quality, recyclable, flexible packaging materials make Sihl a perfect partner for AstroNova in providing a total solution that is environmentally friendly, food friendly, and sustainable. We are proud to partner with Sihl on this initiative, offering our customers what we believe will be the flexible packaging solution with the highest return on investment in the industry.
"Our T2-L plays directly into strong secular trends driving the growth of the flexible packaging industry, including increased urbanization, a greater consumer focus on sustainability, and the growth of e-commerce. Our technology helps to create lightweight, durable packaging that reduces waste, lowers transportation costs, and is safer for the environment."
Companies in this article