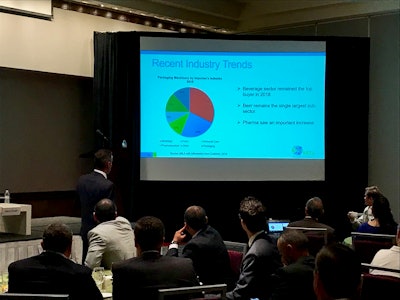 For the third straight year, beverage remains the largest purchaser of packaging machinery, representing 32 percent of the market in 2018, according to Louis Domenech, managing director, Market Intelligence Latin America (MILA). Beer and bottled water continue to drive beverage growth with Grupo Modelo and Constellation, setting the pace in terms of machinery imports. Pepsico, Nestle, Keken and Bimbo are also investing heavily in Mexico with over $5 billion in combined investments in plant expansions for 2019-2020
The dominant packaging trends for the foreseeable future are:
Smaller pack sizes
Thermo-shrink sleeves
Doy-pack pouches across all segments
Packaged vegetables and value-added proteins
Returnable glass bottles
The growing war on plastic
Domenech's candid talk also outlined the various ways the political climate is affecting business, on both sides of the Mexican and U.S. border. He cites politics as the most significant influencer of business in Mexico after the 2018 election of Andrés Manuel López Obrador.
Following his report, PMMI VP of Market Development Jorge Izquierdo moderated two panels of consumer packaged goods representatives to discuss operational challenges and opportunities.
Technical and Market Trends – Challenges and Opportunities
Miguel Alejandro Madrigal, operation director, Laboratorios Sophia
Eduardo Tostado, manufacturing director, Alpezzi
Marco Zannie, director general, Mexcorina
Improving communication between machinery manufacturers and consumer packaged goods companies
Jose Segnini, Olefinos
Regino Valderrama, head of procurement operations Mexico, Beam Suntory - Tequila Sauza
Two of the biggest challenges the panelists noted are the influence of the 16 percent increase in labor wages imposed by the Mexican government and sustainability.
"Everybody wants to be ecological, right up until it comes time to pay for it," said Zannie.
While Valderrama from Beam Suntory/Tequila Sauza wouldn't call out training as a specific issue, he did indicate that training options after the initial installation period would be helpful. His colleagues on the panel agreed, noting that often it takes months to run all of the different SKUs and problems may arise that were not present from day one.