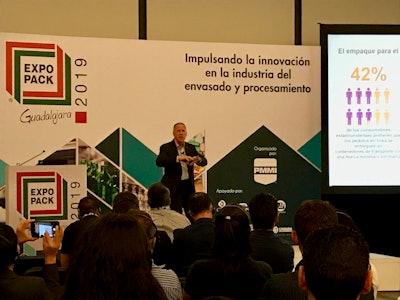 Three out of four Mexicans purchase products online with an estimated 55.3 million online shoppers by 2020, said keynote speaker David Luttenberger, in his show opening presentation "The Impact of E-Commerce on Packaging" at EXPO PACK Guadalajara 2019 (June 11-13).
While the rise of electronic commerce is an undeniable worldwide trend, Luttenberger, the global packaging director of Mintel, was quick to note that e-commerce is not a trend or a fad, but the new normal.
"If your company does not have an e-commerce packaging strategy today than you are behind as it's not a matter of 'if' you will need one, but 'when,'" he said.
Based on trade data from the Government of Mexico, Luttenberger further noted how the value of the Mexican e-commerce market is $321 billion Mexican pesos, a market that has been primarily driven by a rise in nationwide confidence in the security of online shopping as well as the reduction of costs and a better infrastructure to support mobile purchases, creating an optimal point of use, especially among younger consumers.
Additionally, he noted, "the volatility of the Mexican peso has allowed consumers to search the Internet for a better relationship between price and value."
Other figures of note included:
• The average online expense, per purchase occasion, of a Mexican consumer, is 2,120 Mexican pesos (approximately $108 US dollars).
• Sixty-seven percent of online Mexican buyers say they buy from international retailers, and 75 percent of them are retailers in the United States.
• Seventy-five percent of Internet users in Mexico report that they make their purchases through electronic commerce.
Although Mercado Libre receives four times more monthly visitors on its site in Mexico, Amazon is the dominant online retailer worldwide, leaving Luttenberger to question whether Mexican consumers will continue to favor a Latin American retailer or follow the rest of the world and fall in with the practices and conveniences of a more global company.
In Mexico, as in many other Latin American countries, the increase in the purchasing power of the middle classes and the availability and ease of use of smart devices have contributed decisively to the growing participation of electronic commerce.
This trend is radically transforming the conception of packaging, with demand forcing renewed innovation strategies. According to Luttenberger, the influence of e-commerce has been such that, "it has had a greater impact on business, technology, the supply chain, engineering and packaging design worldwide than any other factor that the industry has experienced in recent decades."