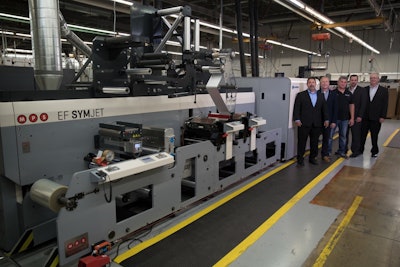 That's how Gregg Temple, President of Minneapolis-based Meyers, a $60 million converter of label, card, and retail marketing solutions, describes the potential he sees in his firm's recently installed hybrid flexo/digital press. Called "MPS EF SYMJET powered by Domino," the flexo press comes from MPS and the N610i digital press is from Domino.
"The selling point for my team with this press is really the versatility that it has in being able to provide unique graphic enhancements, as well as the digital ability to move from one version to the next quickly and efficiently from a make-ready standpoint," says Eric Pohl, VP Sales & New Business Development at Meyers. "But more than anything, it's really the enhancements that we can put on the labels. For example, being able to hit a specific PMS or logo color of a client, and then move into the Domino digital to do the four-color process imaging or variable printing, the two hits of opaque white, to be able to add textures, and then to be able to add cold foil to the label. Those are the things that the Sales team has grabbed onto and is promoting."
Dave McConnon, VP of Manufacturing, values the new press from a more nuts-and-bolts perspective. He observes that too many of the early hybrid offerings were nothing more than an ink-jet system bolted onto a flexo machine, so that the two systems had to be run independently. This is not the case with the MPS EF SYMJET powered by Domino. "When we learned about a year ago that MPS, our preferred flexo press supplier, and Domino, our preferred digital press supplier, were teaming up, that's when we really got excited about a hybrid solution," says McConnon.
Temple sees the new press fitting nicely into the prime label market, where SKU proliferation is ongoing and brand owners need more than ever to differentiate themselves. "This hybrid press allows us to bring the best of both worlds to brand marketers and give them a label that stands out in the marketplace," he adds. See video of the hybrid press here
Companies in this article