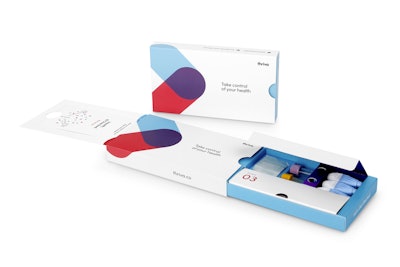 Thriva is a London-based company that offers blood tests and analysis for U.K. consumers, including everything from a "baseline" kit that tracks health risks to "one-off" tests for energy, thyroid function, testosterone, lifestyle and Vitamin B12.
The kits aim to make it easy, convenient and quick for anybody to find out what's actually happening inside their body. Kits can be ordered online and include everything needed to perform a blood finger-prick test at home. The company's goal with the kits is to change what's often viewed as a complicated and unsettling procedure into an accessible, intuitive and friendly service/experience through their packaging.
Packaging and design agency Burgopak provides Thriva with an eight-piece pack, which includes a mailer. While Burgopak provides the attractive package design, carton manufacturing is outsourced to a partner facility in Poland.
The carton itself measures 0.42 microns thick, with a weight of 275 g/m2. It is decorated via lithographic double-sided printing, in four-color CMYK, with an aqueous matte finish.
Burgopak points out the carton materials were designed to be strong enough to hold and protect the products inside during transportation. Inside the pack are plastic mailing cases for the return blood samples, which have to be sealed in a bag and sent to the lab for testing. These components are all provided by Thriva.
Packaging shapes testing
Seeking to empower people to proactively manage their health, Thriva resolved to offer convenience, ease of use and insightfulness in this package. This involved submitting the finger-prick experience and packaging to a complete overhaul. By working with Burgopak, Thriva met its goals by providing an attractive, simple, approachable lifestyle product with a twist.
Eliot Brooks, Thriva'sCo-Founder and COO says, "Thriva set out to disrupt the current model of healthcare. We knew from the outset that a key determinant of success would be winning consumer trust. The end-to-end product has to be super slick and well thought through. For us, the packaging was a key opportunity to turn what can be quite a daunting moment in the customer journey (you are literally about to prick your finger and bleed), into one of sheer delight."
Thriva achieved its brand proposition of credibility and trustworthiness through Burgopak's graphic design and high-quality finish with a double-sided print. Every step in the prick test process is clearly laid out through numbered compartments in which the devices needed for each stage are held securely. Guiding the user through the finger-prick journey by keeping things simple in this way reduces errors, helps reassure the user, and mitigates any concerns about taking a finger-prick test.
Burgopak's sliding mechanism enhances the unboxing experience, as do the sample collection tube holders. The design was not only financially sound, but also added a social media element to the blood sampling procedure by encouraging people to place their "pricked" finger through an aperture on the provided backdrop and to take a photo to share on Twitter.
Brooks says, "Burgopak's solution managed to compactly fit all components in, and still fall within postal guidelines for the large letter classification—something other suppliers struggled with. Not only did they meet our functional requirements, but their pop-and-slide mechanism created that wow factor that has resulted in many customers sharing our product on social media."
Thriva sells its kits online and via select distribution partners. Prices vary based on test type. The company is exploring additional markets, including the U.S., for the blood testing kit.
Editors note: This is a revision of the original story posted June 22, 2017.
Companies in this article