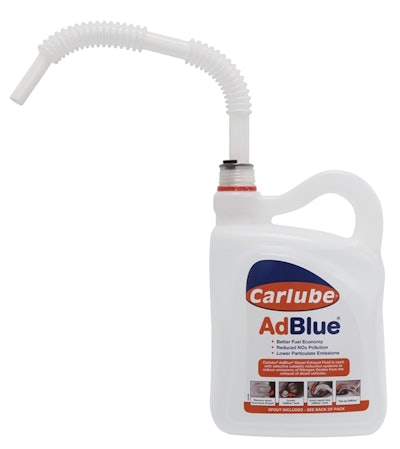 European car care products company Tetrosyl has introduced its AdBlue car lube in a blow-molded high-density polyethylene container from RPC Promens Industrial Plenmeller.
Created by RPC Design, the 3.5-L pack features a special recess in the back, which is able to accommodate the long flexible spout that is used to dispense the AdBlue product by providing easy access to the vehicle filler caps.
This technically-challenging requirement was achieved by increasing the capacity and footprint of the container while realigning the spout within the footprint.
The new solution leaves the front of the container completely clear for labelling in order to maximize brand and shelf presence. User convenience is enhanced by the large handle and wide base for controlled pouring.
AdBlue is the trademark for a Urea solution that needs to be added to diesel engines with selective catalytic reduction (SCR) systems to reduce nitrogen oxide emissions. The new car lube 3.5-L pack was created by Tetrosyl, which concluded that this was the optimum size for the top-up market, combining the right amount of liquid with an easy-to-handle container.
"The new pack has been extremely well-received in the market," says Shazad Shah, Tetrosyl's Product Manager of Lubricants & Winter. "We have been delighted with RPC's contribution to the project, in particular their responsiveness to our requirements."
Companies in this article