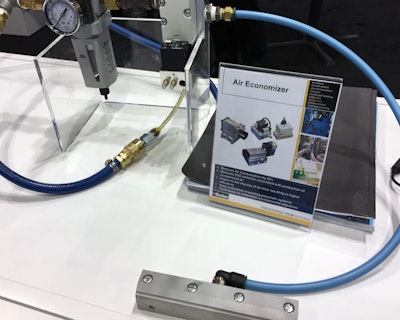 CONTROLS
Energy savings and simpler servo cabling
PACK EXPO International was an opportunity for Parker Hannifin's Pneumatic Division to demonstrate its new Air Saver Unit (ASU) pneumatic valve (1) while Parker Hannefin Electromechanical Automation introduced a simplified cabling solution for servo motors.
The ASU was initially designed to limit energy expenditure and use less air. But the device is growing in popularity on the factory floor because, when compared to uncontrolled blow-off in blowing applications, it provides higher productivity. In North America, this productivity benefit is now recognized as more important than the energy savings the valve was originally designed to provide.
ASUs save energy by interrupting the flow of compressed air so that it can be applied to the target intermittently, instead of continuously, at adjustable frequencies. Rather than a steady stream of air, an ASU delivers a series of impulses, which offers a significant mechanical advantage. Because the ASU has an opportunity to recover during the "off" period of each on/off cycle, the impulses are delivered with somewhat greater force than a steady stream of air provides. Parker originally developed ASUs for the automotive industry as a way to save energy when blowing dust and other contaminants off of car bodies prior to painting. The unforeseen advantage of the on/off technique was its improved effectiveness for this application and its impact on the customer's productivity metrics.
In addition to the automotive industry, ASUs can boost productivity in a wide range of other applications, including the removal of cuttings, shavings, etc. (i.e., swarf) produced by machining processes; PET bottle transfer and cleaning; parts feeding/handling; particulate separation, laser cutting; and electronic assembly systems.
The ASU is available in port sizes ranging from M5 (5 CFM flow) to 1¼-in. (530 CFM flow). Other features include adjustable pulse frequency and duty cycles, a silicone-free grease version for paint shop applications, and an on-time/off-time adjustment needle.
Elsewhere at the same booth, Parker Hannefin Electromechanical Automation used PACK EXPO to introduce a single-cable Hiperface DSL feedback option for its MPP/MPJ Series servo motors.
"Engineers desire to be self-sufficient," said Jeremy Miller, Product Manager, linear mechanics. "The solution decided upon should be easy to set up and 'just work' as soon as it's out of the box. A single-cable installation reduces wiring and installation time."
Plus, with machine builders dealing with simultaneous trends toward simplifying componentry and making washdown easier, a single-cable option for servos kills a few birds with a single stone.
This new cabling technology was developed by SICK. Known as the "6H" for the MPP/MPJ Series, it offers 18-bit, multi-turn absolute feedback, while two-wire communication allows for a single power and feedback connector and cable. The servo motors' all-digital design results in zero signal degradation over long cable lengths.
Programmed as a smart encoder for quick set up to Parker drives (IPA and PSD), the single connector and cable design will result in a cost reduction when compared to existing absolute encoders offered for this product line, says SICK. The single cable will also provide comparative weight reduction, less installation overhead to save time and money, smaller cable terminals, and reduced control-cabinet size.
Plus, the Hiperface DSL feedback option will work with the Intelligent Parker Amplifier (IPA), with firmware update 4.43, and with the Parker Servo Drive (PSD).
Delta flow wrapper is all Schneider
Delta Systems & Automation, Inc. introduced its newest Eagle horizontal flow wrapper outfitted completely with Schneider Electric controls. This high-speed machine features a smaller footprint, utilizing 8 servos and 13 variable frequency drives. The operator interface is Microsoft Windows-based. The control algorithms employ a state machine model, and the machine is PackML-compliant.
Engineering drawings, bills of material, user manuals, and training videos for the machine are all stored internally and are available through the operator interface screen. According to Software Engineering Manager Rick Calvin, the operator change log is one of the most valuable features available on the 22-in. high-definition display. The software developed for the machine was structured to enable its transportability from project to project.
Schneider Electric, a multinational corporation with headquarters in France, has been building its portfolio of products for some years through acquisition of iconic brands. Those brought together in the automation space under the Schneider corporate umbrella include Square D, Modicon, Wonderware, Citect, Foxboro, Invensys, Telemecanique, Berger - Positec, Elau, and a host of others. Many of these acquisitions have influenced the all-Schneider execution of this newly designed machine. The machine utilizes servos with integrated drives, PLCs for control and safety with IEC 61131-3 programming on top of a Codesys operating system, Sercos 3 for interconnecting I/O and servos, Ethernet IP to interconnect VFDs and safety systems, Modbus and Modbus TCP. The operator interface is Windows-based with Wonderware roots. One exception to the all-Schneider execution is SMC pneumatics, including a variety of network-connected devices.
Delta says the potential for remote diagnostics and maintenance can be realized by outfitting the operator or a maintenance technician with a webcam in conjunction with web-based meeting software, which allows a Delta technician to see exactly what the local technician sees. In Delta's experience, large corporate customers are resisting remote connections due to security concerns while smaller family-owned businesses are permitting these connections. There is obviously a different balance of risk versus reward for these classes of customers.
This new Delta wrapper is clearly a state-of-the-art gen-3 mechatronic machine with the capability of playing in an Industry 4.0 world.
Helping build machines for FAST commissioning
Lenze introduced motor and inverter systems aimed at chipping away at machine time-to-commission, and driving down the time and engineering resources required to bring new machines online.
"Machine builders need operator-friendly solutions for the factory of the future. Lenze intelligent motor and inverter systems, modular and standardized software tools, machine self-optimization, and improved ease of machine commissioning translate into operator-friendly solutions," said Doug Burns, Director of Sales and Marketing, Lenze Americas. "Also, more than ever before, there is a need for machines that require parameterization instead of programming. This is why Lenze's goal in engineering is to make life easier for machine-builders."
The suite of Lenze solutions demonstrated at PACK EXPO were aligned around reducing IT complexity without losing performance, energy efficiency, and scalability, according to the company. The i500 frequency inverters, for example, structurally separate the power and control unit, which contains different forms of fieldbus communications, including Ethernet, multiple I/O interfaces, and plug options for a keypad, USB, or a wireless LAN module. These interface options simplify commissioning on a network, parameter setting, and diagnosis. Users can control and perform preventive maintenance on the i500 inverters from a remote location with authenticated access.
Lenze modular drive technologies allow machine builders to launch flexible and intelligent machines at shorter intervals. FAST technology modules provide an easy-to-parameterize drive solution with a robotics core that makes programming multiple axes as simple to parameterize as a single positioning axis. The open-standard programming environment can be used for control at the process level and to precisely integrate upstream and downstream conveyor drive tasks using the same controller. The platform used in Lenze controllers is designed with internal controls and a PLC safety measure system. Plus, it comes equipped with detailed user rights management to support multi-layer cyber-security protocols.
The Lenze Smart Motor links the traditional field of speed-controlled drive technology with Industry 4.0 by blending the simplicity of an ordinary motor with advantages of an electronic drive control unit, and it gives mobile users the freedom to adjust motor speed with a smartphone app.
Added Burns, "Now more than ever machine builders need the right tools to quickly build and launch competitive new machines. Lenze has stepped up with a significant framework to reduce and manage machine development complexity and time."
Mass customization pushes innovation efforts
With the changes that have come through the pipeline over the past few years in consumer products, manufacturers face more need for customized products—meaning shorter lot runs and demands for multiple changeovers. These requirements are passed on not only to high-end equipment manufacturers, but also to all machine builders, according to Frank Langro, Director of Marketing and Product Management for Festo. "Flexibility is no longer an option," he said. "It's a necessity for packaging."
At a press tour of Festo's PACK EXPO booth, executives from Festo and partner companies emphasized the concept of mass customization and the need for flexibility in manufacturing. Brad Schulz, Industry Segment Manager for end-of-line packaging, talked about Festo's T-Gantry, which provides flexibility in both the X and Z axes through a single-belt design and two stationary motors that operate much like the knobs of an Etch A Sketch. Elsewhere at the Festo booth, the PFS-001 pneumatic quick-changeover system integrates a PLC on a valve manifold to create a modular device that's especially suitable for retrofits. It controls up to eight individual pneumatic actuators with individually adjustable setpoints, eliminating the need for multiple manual adjustments and time-consuming changeovers to run new products. With this technology, manufacturers can change the width of a conveyor on the fly, Schulz said.
This is the kind of technology that Festo partner company Flexibility Engineering is making use of for advances in its Anysize automatic positioning system for guide rails (2). Anysize was first introduced in 2008, but Festo's dynamic valve technology has enabled the latest iteration to accommodate a wider variety of package sizes. It can now handle hundreds of different bottle types, as well as cases of different sizes, noted Joe Pawelski, Vice President of Technology at Flexibility Engineering. "Some companies run 20 different bottles on the same line," he said.
That need for product changeover is rampant in the Consumer Packaged Goods industry these days, and most conveyor lines are not ready for automatic changeovers, Pawelski said, noting that most are still manual. Servos are used sometimes to automate a conveyor, but they are typically cost-prohibitive, Pawelski noted, adding that pneumatic cylinders take up a lot of space, and hand-crank solutions are too complex. Flexibility Engineering has been able to keep its Anysize technology simple and cost-effective. "And there have been no failures on the cylinders to date, which is pretty incredible," he said. "That's what you get when you keep things simple."
The Industrial Internet of Things (IIoT) factors importantly into mass customization, providing more intelligent ways to manufacture products, according to Nuzha Yakoob, Senior Product Manager for advanced mechatronics at Festo. Intelligent transport mechanisms, for example, figure into Industry 4.0 concepts like mass customization and lot sizes of one, she said.
Festo partnered with Siemens to create the Multi-Carrier System (MCS), which uses RFID technology and task-specific automation stations to accommodate a wide range of product variations on a single line. Each transport carrier can move freely and independently from all other carriers, and have precise positioning with repeatability of 50 microns. The carriers move collision-free and can be transported at constant velocity along the track—all with zero changeover time.
That technology has enabled Brenton Engineering to create a flexible medical device packaging system that avoids interrupting production to change over to new product packaging. Brenton has integrated MCS into a case former and top-loading robotic case packer, where it can independently route products and packaging to various operations, giving the manufacturer more flexibility.
"We wanted to be able to expand or contract the design," said Mike Grinager, Vice President of Technology at Brenton. They specifically wanted to be able to get a smart track system only where they needed it, which MCS enables, he added. "We know what we want, and we drove Festo and Siemens pretty hard to deliver."
OMAC, PLCOpen, OPC Foundation—a unified message
With adjoining exhibit booths, OMAC, PLCOpen, and the OPC Foundation showed PACK EXPO attendees how their standards work together to make packaging machinery integration easier.
The journey to the connected world of Industry 4.0 is how Dr. Bryan Griffin, Group Engineering Manger for Nestle and chair of OMAC, described the collaboration among OMAC, the OPC Foundation, and PLCOpen. OMAC, the Organization for Machine Automation and Control, is a charter member of The Automation Federation, and the developer and sponsor of the PackML standard and other packaging-related technical reports. PMMI provides administrative support to OMAC. The OPC Federation is the creator and sponsor of Object Linking and Embedding (OLE) for Process Control (OPC) and the later OPC Unified Architecture (UA) standard for cross-platform communications between automation equipment. PLCOpen is an organization that provides support for the implementation of the international automation programming standard IEC-61131-3 for PLCs and embedded controls. By sharing booth space at the entrance to the North Hall, these three entities reinforced their desire to collaborate to provide a total solution for packaging machinery system integration.
OMAC's PackML standard, officially designated ANSI/ISA TR88.00.02, has been under development and use since 2002 and was released as an ANSI/ISA standard in 2008. It defines modes, states, and tags that may be applied to any packaging machine. Nearly all major automation suppliers provide OMAC PackML templates for use in their control systems. In addition to other technical aids and documents issued by OMAC over the years, they have also just released PackSpec Template v.2 to aid buyers and sellers in the machine specification process. Future versions of this document will be developed by the OpX Leadership Network sponsored by PMMI.
OPC UA provides a vendor-agnostic solution for communicating PackML states, modes, and PackTags to or from any machine, HMI, supervisory controller, or ERP system. PLCOpen encapsulates the communication architecture and provides independence from the operating system or programming language. OMAC defines the functions to be performed, PLCOpen provides a common language within which to execute the instructions necessary to perform the functions, and OPC UA provides the means to communicate between the devices that execute those instructions.
Arla Foods, Scandinavia's largest dairy producer, provided information on how PackML has reduced capital costs and is expected to reduce operating costs. Costs for project specification, integration, testing, and training were all reduced as a result of conforming to the PackML standard. Standardizing on OEE calculations across lines, monitoring energy consumption, improving data quality, and improving visualization of line performance are expected to provide ongoing operational savings and a productivity improvement of 5% to 20%.
One of the challenges of PackML for machine suppliers has been that different customers have different guidelines for PackML implementation. The original PackML implementation guide was based upon work done by P&G. To try to solve this problem, OMAC workshops have been underway to develop a unified PackML Machine Implementation Guide. Packagers on this team include Arla, Nestle, P&G, Mars, Velux, Coloplast, and Sesam along with machine builders Bosch Packaging Machinery, Multivac, Tetra Pack, PakTech, Mettler Toledo, Krones/KHS, Meurer, and SIG. A status update was provided at PACK EXPO with another planned for interpack next May. This implementation guide, which is nearing release, will be another aid in the path to simple, seamless integration of packaging machinery.
CLOUD AND IOT
The push and pull of cloud-connected data
Walking through the halls of PACK EXPO, it's not at all uncommon to see robots picking up objects and putting them down elsewhere, flexing their packaging and palletizing muscles. What is less common is to see data from that machine displayed at another booth somewhere else on the trade show floor.
But we've entered into an age of Internet-connected machines and devices, where data of all kinds can be sent to the cloud for dissemination to other web-based devices. And as much as manufacturers might be hesitant to jump into something referred to as the Industrial Internet of Things (IoT) or Industry 4.0, the fact is that it's become much more common for them to be involved with some aspect of the technology.
In its booth at this year's PACK EXPO, Beckhoff Automation demonstrated this proof of concept with two of its OEM customers—Flexicell and Groninger. For example, the in-booth HMI (1) showed in real time the activity of the Flexicell palletizer further down the aisle, detailing the layers and cartons being stacked and unstacked by a six-axis robot, and the production speed of the work. And with a quick scan of a QR code, anyone could get the same information on their smartphone or tablet. The concept is HMI anywhere, showing the ability to push live data to any screen.
It's all part of the practical implementation of the cloud-connected Smart Factory, combining IoT-enabled hardware and software technologies. But don't try to tell manufacturers that what they're doing is IoT or Industry 4.0. For some, no matter what level of activity they have in high-end traceability or Internet connectivity, they're often hesitant to put a label on it, said Shane Novacek, Marketing Communications Manager at Beckhoff. "They're hesitant to identify it with a label. It's more about the capabilities, like continuous improvement or monetization," he said. "They're not in it because it's cool. They're in it to do something real."
And while machine builders have a huge potential to create new revenue streams with IoT-style client services, they are far more likely to get into the technology if they see an opportunity with a large end-user manufacturer, Novacek added.
But the capabilities and benefits are real, no matter what you call it. The Beckhoff approach expands on already-existing systems. The supplier's TwinCAT 3 PC-based control software platform has been expanded to give users the ability to create IoT and cloud-connected automation systems in the same universal environment they program PLC, motion control, robotics, safety technology, and more.
New I/O solutions have also been introduced. Beckhoff's IoT Bus Coupler and IoT Box provide a simple method to directly connect I/O systems to the cloud and securely transmit data over recognized standards such as OPC UA, AMQP, and MQTT. The IoT Bus Coupler connects EtherCAT I/Os with the Microsoft Azure cloud directly, without the need for a specific control program. The Azure Certified device offers simple and standardized integration of I/O data with cloud-based communication and data services.
Although everything at Beckhoff's PACK EXPO booth was connected through Microsoft Azure, Beckhoff also uses Amazon Web Services for cloud connectivity. Further down the road, the supplier has plans for its own Beckhoff Cloud, a more industry-specific cloud service for machine builders and manufacturers that can have features and functionality more tailored to a true IoT.
Other Smart Factory solutions Beckhoff has in its toolbox include TwinCAT Analytics for online and offline analysis; TwinCAT IoT, which provides a variety of functions for exchanging data; and EtherCAT P, which combines EtherCAT communication and power in one standard, four-wire Ethernet cable.
IoT for pallet tracking
RM2 International, a vertically-integrated pallet development, management, and supply company, announced its participation in AT&T's LTE-M network pilot that aims to boost connections for the Internet of Things. On display at PACK EXPO was what RM2 calls ELIoT, a fully integrated, zero-maintenance, long-life IoT-based track-and-trace solution for pallets that capitalizes on LTE-M.
AT&T is working with a variety of technology suppliers like RM2 to showcase the LTE-M technology that will bring the IoT to a new generation of devices and markets. AT&T has launched North America's first LTE-M-enabled commercial site in the San Francisco market to support the pilot of AT&T's LTE-M low-power wide-area network beginning later this month. AT&T plans to make the technology available across its commercial network throughout 2017.
RM2 International has developed RM2ELIoT, a fully integrated, zero maintenance, long-life, IoT-based track-and-trace solution. AT&T's LTE-M network can support the solution through enabling 10 years of battery life and better wireless coverage deep inside buildings and in subterranean environments.
"Our work with RM2 during our LTE-M pilot will show how this new technology can help the packaging and supply chain industries increase their efficiency and sustain the integrity of their products," said Chris Penrose, President, IoT at AT&T. "This a prime example of how innovations like LTE-M will help bring the IoT to more end points than ever before."
"Delivering to the market a first-of-its-kind technology solution while being a part of a group that will take this offering to the next level gives RM2 a unique product offering that separates itself from other pallet service providers while guaranteeing its solution remains at the forefront of the technological evolution of the Internet of Things," said RM2 CEO John Walsh.
Next-gen HMI
At PACK EXPO International Bosch Packaging Technology presented what it calls the next generation Human Machine Interface HMI 4.0 (2).
The HMI 4.0 is suited for both stand-alone machines and entire lines and is part of Bosch's industry 4.0 applications. For instance, it provides an interface for data collection, data sharing, and visualization. As of interpack 2017, Bosch will equip all new machines of its processing and packaging units with the HMI 4.0. "This is a revolutionary innovation. The aim is to ensure that all our machines feature the latest hardware and control technology, and also provide a consistent user guidance with the same comprehensible surface," said Stefan König, member of the board of management at Bosch Packaging Technology. "Thereby, Bosch not only explores new horizons with regard to design, but also sets a milestone for connected solutions in the processing and packaging industry."
A major new feature of the HMI is its guided workflows, which lead operators through each step of production processes.
The same applies to format changes, cleaning and maintenance, and other processes. This facilitates the daily work. The display resembles that of mobile devices like smartphones or tablets. Thanks to an intuitive, touch-sensitive surface, data can be entered with gestures (multi-touch), including zooming in and out with two fingers—"pinch and stretch"—as well as navigation by swiping.
"In future, machines and systems will be easier to operate since operators have a uniform navigation concept with the same basic functions for each machine of a line," König explained. "Even existing machines may be retrofitted upon request." Thanks to a clearly arranged, tile-structured menu, operators will benefit from a quick overview of all functions and processes of their machines. Tailored to specific user roles, such as operator or line manager, the HMI 4.0 only displays the processes relevant to the current user.
The HMI 4.0 provides comprehensive, integrated support as well as more transparent processes and notifications. In case of production downtime, operators immediately receive a notification, including information about the causes and troubleshooting support to quickly restart their machines. Direct links to user manuals and format changeover lists assist users in their day-to-day tasks. Furthermore, a new comment section enables users to add their own notes and share them with others.
"The HMI 4.0 provides an immediate overview of all production parameters and data. This is especially important with regard to the big amount of data in the connected industry. During production, all key information is summarized on a central dashboard. With its standardized interfaces, the HMI 4.0 is a central element for the connection to other solutions. This way, our customers are fully prepared for upcoming industry 4.0 challenges," König said.
Bosch has tailored its HMI 4.0 especially to users' needs and requirements. Machine operators all over the world were interviewed and operating habits observed. "The new HMI is already in use on first machines of several customers," said König.
System and line competence as well as connectivity are essential characteristics of the intelligent factory of tomorrow. It's a matter of shifting the focus from a single machine to the entire production line by offering complete solutions. These include multiple production stages, as well as further processes within the production environment and a comprehensive service. Technological progress and the increasing digitization open up numerous opportunities to better connect all parts of the value chain by applying integrated industry 4.0 solutions, and to ensure product quality and long-term operability of machines.
For a video description of the HMI 4.0, go to pwgo.to/2665.
Hapa introduces products for Industry 4.0
What is Industry 4.0? Depends on whom you ask. One answer came from Switzerland's Hapa, part of the Coesia Group and a maker of on-demand printing systems for the pharmaceutical and cosmetics packaging industries. Data strategies are changing rapidly in the pharmaceutical space because of the requirements for drug serialization that affect data transfers from the machine level all the way to nationally maintained databases. OEE (Overall Equipment Efficiency) in the pharma space is often less than half of the OEE for the typical consumer product manufacturer, and this too affects data transfer and Industry 4.0 strategy. Pharmaceutical companies are not willing to have their engineers tinkering inside of machines that have been validated by the manufacturer, so the entire dynamic of integration is different. According to Marketing Supervisor Patrick Schmid, Hapa introduced its first printer equipped for Industry 4.0 applications and is expecting to adapt to customer requirements for data transfer.
Hapa says that Industry 4.0 is about getting real-time information to the customer and figuring out how to use it. That information might be about maintenance intervals, wear predictions, use of consumables, quality metrics, or impending fault conditions. The first part of the task is to get the information from the machines. Hapa's strategy for Industry 4.0 is to be the lowest-level provider of data for the customer. Hapa has not adopted any particular industry standard such as PackTags for this data, but will provide a firewall under customer control for every machine and upload encrypted data. Hapa uses B&R Automation modular control platforms, which can provide flexibility to meet particular customer needs.
As Industry 4.0 concepts develop for the packaging and processing industry, it will be interesting to see how the definitions converge. In hindsight, it is easy to understand how the industrial revolution, mass production, and automation moved society and manufacturing forward in what we now identify as three distinct phases. But as we look to the future for that fourth phase, it may be difficult to discern when we are there. We have seen how other once highly touted concepts never quite caught on. Computer Integrated Manufacturing (CIM), which had people salivating some 40 years ago, is one good example. History will tell what Industry 4.0 is to become.
Three more cloud-based initiatives
Videojet, Arpac, and Wexxar all had the Cloud in mind as they approached PACK EXPO this year. At Videojet it was reflected in something called Videojet Remote Services. The idea is to provide easy access to machine data because it so often can be the key to proactive and predictive printer maintenance and, consequently, optimized productivity. This is an intelligent cloud-based solution for measuring, tracking, and providing meaningful recommendations for uptime optimization. When something needs to be done to a printer, the person whose responsibility it is to take action receives an email or text—operator, supervisor, or maintenance tech—telling him or her what action to take.
Over at Arpac was a concept called BeConnected. According to President Rick Allegretti, it's always been difficult to get customers to provide real-time access to machine data because of security concerns. With BeConnected in place, data moves from the machine PLC up to and through the customer's firewall by way of products like Ewon or Netbiter. It then makes its way to the cloud. Once there, says Allegretti, you can do anything you want with it. It could provide valuable feedback, for example, to Arpac engineers that will help them with design improvements based on better knowledge of machine performance. Or it can help the supplier of consumables like cases or caps or cartons to more efficiently manage order and supply issues. It could even help with managing spare parts order and delivery. Alligretti is the first to admit that it isn't clear just how this cloud-based concept will play out. It's an opportunity in need of a conversation. The point is, technology allowing this kind of data exchange has arrived. Why not let the conversation begin?
Another machinery OEM capitalizing on the cloud is Wexxar, a division of ProMach, where the engineers recently came to this conclusion: Too often the information an operator needs about a packaging machine is buried somewhere in an HMI screen, which means operators have to do too much sleuthing before they can take the kind of meaningful action they need to. So these engineers came up with something called WISE, which stands for: Wexxar's Intuitive Interface; Integrated on-board management; Smart access controls; Effective Diagnostics.
According to Sander Smith, Product Manager at Wexxar/BEL and DEKKA (another ProMach division), WISE is a comprehensive reimagining of how today's diverse workforce interacts with Wexxar/Bel equipment to achieve the highest overall equipment effectiveness (OEE). WISE focuses on more intuitive user control, onboard machine tuning, visual indication of alarm locations, on-machine troubleshooting, and in-depth changeover guidelines. One of its most innovative features involves QR bar codes placed at key locations on a machine. Scanning the QR bar code with a smart phone or tablet will connect the operator or maintenance person with the most up-to-date information on maintenance procedures, troubleshooting, and adjustments for the section of the machine covered by that QR bar code. This approach utilizes the power of the cloud to deliver current and evolving information, including video, without the hassle or potential security risk of networking the machine to the Internet.
E-COMMERCE
AI for high-mix, high-volume robotic picking
With its new Neocortex® Goods to Robot Cell (1), Yaskawa hopes to be "the easy button" for high-mix, high-volume applications where manual labor is currently required. Especially suitable are applications such as random bin picking or order fulfillment in e-commerce settings, while machine tending and line loading are also targeted, said Dean Elkins, Senior General Manager of Yaskawa Electric America, Motoman Robotics Division.
The pre-engineered adaptive picking solution—a collaboration between Yaskawa, Motoman Robotics Division, and Universal Robotics—is built on Universal's Neocortex and Spatial Vision® 3D software platform and features a Motoman MH12 robot, gripper, 3D vision guidance, industrial PC, sensors, communication protocols, HMI, and safety barriers.
An artificial intelligence platform, Neocortex can identify a diverse mix of boxes, bottles, tubes, and bags, with virtually no limit to the number of parts or SKUs it can identify. With the platform, Motoman's MH12 robot can pick incoming products from totes, bins, trays, or cases and place them in bags, boxes, or cartons for shipping. Elkins explained, "The rise in e-commerce and mail order pharmaceuticals has prompted the development of this technology."
The Neocortex Goods to Robot Cell has a compact, 4 x 4-ft footprint and operates at an average speed of 800 picks/hr, with peaks up to 27/min.
Modular transfer/diverter station
Just as e-commerce has rapidly expanded over the past year, so too have packaging machinery innovations that meet the needs of this new market. Regal Beloit's new MODSORT™ modular transfer and diverter station (2) handles what it says is the widest range of package sizes and styles—including very small packages and polybags—of any right-angle conveyor on the market today.
The MODSORT station features the System Plast™ 2253 roller-top belt, which allows it to transfer and divert packages based on the sphere's vector speed and direction, while also featuring a 1-in., on-center sphere to allow very small packages to be diverted. The technology eliminates the need for a lift, pneumatics, or pusher bars to transfer products, reducing product damage and resulting in a low-voltage solution. The station can divert on-the-fly or stop and divert at a true 90-deg angle.
Speaking on the flexibility of the system, Mike Suter, Vice President of Marketing for Regal Beloit, said, "Due to the flexibility, this station eliminates the need for a tray required on a pneumatic pop-up converter to transfer polybags, which continue to increase in popularity today due to recent changes in shipping costs."
The MODSORT can be easily integrated into new or existing material handling systems.
Fit-to-size cases for e-commerce applications
E-commerce is growing by leaps and bounds, leaving brand owners and fulfillment services scratching their heads as to how they can compete with Amazon.com when it comes to shipping their products cost-effectively. Part of the challenge is minimizing shipping volume to reduce "DIM weight," a freight pricing method that reflects package density—the amount of space a package occupies—in relation to its actual weight.
At PACK EXPO, ProShip featured its CVP-500 fit-to-size case-making system (3), which saves on DIM weight charges with a 50% reduction in shipping volume; reduces case sizes, resulting in 20% less corrugated; eliminates void fill; and replaces eight to 10 manual packing stations, while providing 10-times more speed.
ProShip is a Neopost company, which adds a lot of clout to its solution. Neopost is a 100-year-old company with roots in the postage meter and mailroom equipment industry. "When the company started seeing the postage business going down and e-commerce growing, it began developing solutions for the market," said Steve Ewert, Solution Architect for ProShip.
While there are other machines on the market that create shipping cases to-size, Ewert said the CVP-500 is the only one that incorporates software to calculate the lowest shipping cost at the desired service level.
Also unique to the machine: Through the use of a 3D item scanner, it calculates the dimensions of the product to be shipped as it is conveyed into the machine, and it creates a box around the product—versus making the box and then filling it in a separate operation. The system can also package multiple items grouped together, which are conveyed so smoothly that stacks of products remain stable until packaged.
The cases are cut from fan-folded corrugated, fed to the machine from one pallet holding 2,300 ft of material. Whether it's packing a single item or a group of products, the CVP-500 operates at a speed of 6 to 7 cases/min.
The machine provides all the functions needed to produce a ready-to-ship case. This includes the addition of an invoice, packing slip, or return label via a pick-and-place robot, the printing and placement of an invoice or return label—also via robot—case taping, case weighing (and postage calculation), and the printing and application of a shipping label.
Ewert shared that two CVP-500 systems have been sold in the U.S. since its introduction here in February 2016. The most recent customer is Mason Companies, a nationwide retailer of footwear, apparel, and general merchandise. Mason purchased the machine in September 2016 to improve its warehouse efficiency and customer service, as well as save money on labor, packaging materials, and shipping costs.
Watch a video on the CVP-500 at pwgo.to/2666.
Baggers good for fulfillment, e-commerce
PAC Machinery is designing systems like the Magnum line of horizontal and vertical baggers to meet the unique needs of fulfillment and distribution facilities. The Magnum horizontal bagger meets the unique requirements of bagging large products horizontally. This bagger works with coex mailer tubing, as well as bag on a roll. By using coex mailer tubing, distribution centers save on material costs even further by right-sizing bags for the product being packed. The magnum Horizontal features several configurations of label applicators to automatically apply the shipping label to the bag.
This automatic bagger can package products at speeds to 70 bags/min using pre-made bags on a roll and speeds to 40 bags/min using poly tubing. A built-in interface simplifies integration of robotics or other automatic in-feed devices for in-line filling of long, bulky, or variable-length products. With either a thermal-transfer printer or a label applicator, graphics, barcodes, and inline text can be printed right on the bag. The Magnum Horizontal can be configured with a range of options (hole punch, wider seal bar, light curtain) to tailor the bagger to the specific packaging application.
The Rollbag Magnum Vertical automatic bagger is a bag-making and sealing system for automatic packaging. The Magnum Vertical is a revolutionary compact form/fill/seal system that utilizes tubing, in addition to Rollbag™ pre-opened bags-on-a-roll. Size changes and setup are simple, using the built-in job storage feature and large color touchscreen. Help screens and built-in diagnostics ensure optimum performance and uptime.
Built-in interfaces simplify integration of counters, scales, robotics, and other automatic feeding devices. With the optional thermal-transfer printer, the Magnum can print graphics, barcodes and text, as each bag is indexed through the machine, eliminating the material cost and labor expense of applying labels.
WORKFORCE DEVELOPMENT
Education and workforce development programs at PACK EXPO International play an important role for students, educators, and employers.
During the latter half of Sunday afternoon, a new and important event occurred on the lower level of North Hall. The area was filled with community college and university students meeting and holding discussions with potential employers involved in the packaging, processing, and automation industries. Students were amazed by the vast array of technology available on the show floor, and very likely still went away without a complete understanding of the wide range of occupational opportunities available within these industries. Both the students and the employers with whom I spoke were very pleased with the outcome of the NextGen Networking Fair, sponsored by B&R Automation, and hope to see it expanded in the future.
The fair was held within the PMMI Education Pavilion where schools and universities staffed exhibit booths promoting their programs in packaging science, packaging machinery, and packaging logistics. Many of the booths were staffed with students who had the opportunity to browse the show floor and look for career opportunities. It was interesting to see employers travel half way across the country to learn about relevant educational programs that exist right in their own back yards. Some participating students also had the opportunity to volunteer their time in participating booths, which really helped them to learn about the industry. Bosch Packaging, for example, had students assist with feeding product into machines for booth demos in exchange for a financial contribution to their school. Some exhibitors also used PACK EXPO exposure to recruit students for permanent jobs, sometimes making them offers right on the show floor.
High school students also played a role at PACK EXPO demonstrating their competitive robotics projects in an area located adjacent to the Grand Concourse. Nearby, the PMMI Education and Workforce Development Department was set up to promote and explain their programs for PMMI U, Certified Trainer, Mechatronics (industrial maintenance) Certification, and packaging e-learning. PMMI works with schools across the country to develop programs and encourage relevant degree and workforce development programs to serve both the skills needs of both their members and their members' customers. Scholarship and tuition reimbursement programs are available. For those companies wishing to promote educational programs for their region, the Manufacturing Workforce Development Playbook from PMMI Media Group (www.packworld.com/workforce) provides strategies and best practices for collaboration among industry, education, and government to solve the manufacturing skills workforce crisis in America.
The last educational program of the week took place on Wednesday afternoon. Student teams in brightly colored T-shirts scurried about the exhibit floor to perform packaging-related tasks in 29 participating booths. The Great Packaging Race, sponsored by ASCO Numatics, was won by team seven consisting of students from Indiana State University, California Polytechnic, Virginia Tech, and Rutgers University.
Companies in this article